When the clock strikes 12:00 PM CST on Sunday, the Kansas City Chiefs and Buffalo Bills will collide for the sixth time in as many years, including last year's road trip to Ralph Wilson Stadium, which ended in Buffalo's favor, 35-17.
However, just like Kansas City's previous eight games in 2013 have been intentionally forgotten, so have the matchups of years past; the Chiefs have moved on.
Sunday's Week 9 contest against the Bills will present a wide variety of challenges, some of which were addressed by Chiefs head coach Andy Reid, earlier in the week. 
"First, I think they're very well-coached," coach Reid said. "Not that they weren't before, but they're very well-coached and they've got good players. That's a pretty good combination, right there. They've got a good scheme. As much as I told you about Bob Sutton's defensive mind, Bill defensive coordinator Mike Pettine comes from that same tree. I was familiar with Mike, when he was a famous high school coach in the Philadelphia area; he comes from a football family. His dad was a great coach too. He's got a tremendous defensive mind. They've got good coaches and good players, that's the bottom line. Then, they do a good job on special teams. We've got to make sure we take care of business in our preparation. We respect the heck out of them and we just have to get ready to play."
Working closely with coach Reid is Chiefs offensive coordinator Doug Pederson, who described more of what the Chiefs offense will be staring at on Sunday.
"It's a good group," Pederson said. "I'll tell you what, the last couple of weeks, it's been a great challenge for our guys up-front and this is no different. Bills defensive linemen Kyle Williams and Mario Williams, these guys can flat out bring it. They're getting their secondary back healthy, which is a positive for them; they're going to be at full strength. It's a group that flies around and it's another challenge for our guys."
Speaking of the guys up-front, Chiefs OL Jeff Allen showcased his film study, previewing the talented Bills defense.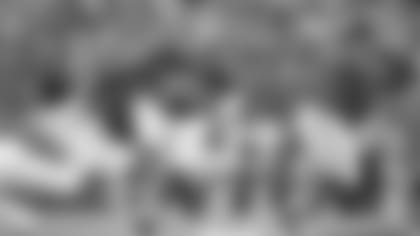 "They have talent across the board," Allen said. "You hear a lot about Mario Williams, of course, that's what he deserves. They've got some guys inside that can do some things too. Kyle Williams, he's one of the best in the league; he does a great job at both the run and pass game. He's just an overall great football player and Marcell Dareus is too. Jerry Hughes, he's the defensive end that plays opposite of Mario; he does great things as well. We just have to be prepared to come out and play a good game."
Chiefs QB Alex Smith was asked about the Bills defense and responded similar to Allen.
"They're a good group," Smith said. "You turn on the film, they're a talented group and I think it starts with their front. I think they're second in the NFL in sacks. They get a lot of pressure, especially with the front four. They create a lot of turnovers; they're very unorthodox in the back end. They run a lot of different coverages and try to confuse you. They've had success and created a lot of turnovers. We certainly have our hands full this week."
One of Smith's many targets, Chiefs WR Donnie Avery will be looking to a make plays against a very quick Bills secondary.
"First off, they're very athletic," Avery said. "They're speed guys, who are very physical guys, so we just have to work with what we've got at the line of scrimmage, stay detailed in our routes and try our best to get open for the quarterback."
As for quarterbacks, regardless of who is behind center for the Bills on Sunday (Thad Lewis, Jeff Tuel or Matt Flynn), Chiefs Pro Bowl LB Tamba Hali knows that Buffalo is loaded with playmakers.
"Buffalo is a very talented team," Hali said. "Watching them on film, they're very athletic. These guys can all make plays from the quarterback position to the wide receivers and the running backs. They've got an explosive offense. They've got players like (Fred) Jackson and (C.J.) Spiller; they've been there. They understand the system and they want to get some things done up there as well. We're coming in to play one of our toughest games on our schedule right now; it'll be a challenge for us."
Chiefs DE Tyson Jackson needed one word to define the Bills offense.
"Explosive," Jackson said. "They probably have the best offensive line we've faced so far. We're going to have our hands full, going against those guys. They're big and they're physical. They can move around pretty well and I think the biggest thing is that they play well together."
The third part of Chiefs defensive coordinator Bob Sutton's defense is his secondary, which includes CB Brandon Flowers, who fittingly assessed the Bills aerial attack.
"They've got plenty of great quarterbacks that can get the job done," Flowers said. "That's very rare in the NFL. They have speed on the outside that can definitely make plays. If you see them, cover them. Stevie Johnson is an accomplished receiver in this league; you know what he can do, when he touches the ball. We have to be on-pace; it's going to be a tough game."
In the third phase of Sunday's contest will be the Chiefs special teams, including WR Dexter McCluster, who has 36 punt returns in 2013, one for an 89-yard score.
Chiefs special teams coordinator Dave Toub assessed McCluster's play, entering Week 9.
"Dexter has a lot of guts," Toub said. "He has a lot of courage back there; that makes him dangerous, the fact that he is that way. The punt team knows it and they have to cover every kick. He's smart. He's made three fair catches this year and every one of those was a smart fair catch, that thing hanging up there. He's going to push the envelope, which is good for us."
When the ball is kicked off later today, Chiefs fans are hoping the countless hours of preparation, by coach Reid, his staff and players, will ultimately lead to a joyful flight home.
For in-game tweets, behind-the-scenes content, including photos and vine posts, you can follow me on Twitter (@KCChiefs_Reid).
For a look at the latest Chiefs Injury Report, click here.