GAMETIME: 3:25 p.m. CST on Sunday, September 14LOCATION: Sports Authority Field at Mile High Stadium, Denver, CO
HOW TO WATCH: CBS (KCTV5 Local) | NFL Network Game Rewind (Monday, 9:00 p.m.)
HOW TO LISTEN: 101.1 The FoxLIVEBLOG:KCChiefs.com
Despite losing offensive lineman Jeff Allen, defensive lineman Mike DeVito and linebacker Derrick Johnson in the game against the Tennessee Titans last week, as an organization, the Kansas City Chiefs have moved on.
"We look forward to playing the Denver Broncos," head coach Andy Reid said after practice on Friday. "Things happen in this business and you know that. The next guy steps in and they do their job and they do it to the best of their ability and that's what you ask of them."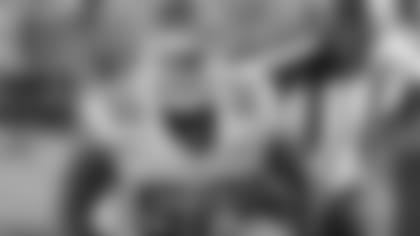 With Derrick Johnson out, the Chiefs turn to linebackers Josh Mauga and James-Michael Johnson on the inside. This week, James-Michael Johnson spoke about what it will mean to step up in the 10-year veteran's now-unoccupied position.
"Everybody knows we've got to pick up the slack," Johnson told the media on Thursday. "DJ and Mike DeVito, they're both really good players. You can't really go out there and try to be that person. Everybody's just has to make a combined effort and lock in a little better."
The new-look defense will need to stop the reigning MVP in quarterback Peyton Manning (No. 18), who led his team to a 31-24 victory in Week 1 against the Indianapolis Colts.
In that effort, Manning went 22 of 36 for 269 yards and three touchdowns.
"You have to study him," Reid said he told the younger players this week. "He's going to complete a pass or two. That's what he does so you don't get down on that, you get on with the next play.
With wide receiver Wes Welker (No. 83) suspended and Eric Decker departed to the Jets, Manning has already found a new favorite target in his offense.
Against the Colts, tight end Julius Thomas (No. 80) had seven receptions, 104 yards and three touchdowns.
"I saw some of the Colts game," Chiefs cornerback Chris Owens said earlier this week. "Julius Thomas, number 80, he's a beast. He's going to be a handful to work with so I accept the challenge.
"I know my fellow defensive backs accept the challenge and we'll be ready for Sunday."
In addition to Thomas, two-time Pro Bowl wideout Demaryius Thomas (No. 88), who led the team in receptions last season with 92, will be a player the Chiefs will need to watch. In handling both, safety Eric Berry stressed how important it will be to divert the Denver passing routes.
"Everything they do is based off timing, based off rhythm," he said. "Peyton's going to put the ball where it needs to go so anytime you can knock them off their course or knock the timing out, I think that will make it very difficult for them to move the ball."
On the ground, second-year running back Montee Ball (No. 28) is the featured back for Denver after Knowshon Moreno left for Miami in the offseason. Against Indianapolis, Ball had 23 carries for 67 yards and a touchdown.
As the defense deals with Peyton Manning, Chiefs quarterback Alex Smith and the offense will face challenges of its own.
In the offseason, the Broncos signed 10-year veteran linebacker DeMarcus Ware (No. 94) after he spent nine seasons with the Cowboys. He joins linebacker Von Miller (No. 58) on what had already been a steadfast pass rush.
"Those are two top-notch NFL pass rushers," Chiefs offensive coordinator Doug Pederson said of Ware and Miller. "We have our work cut out for us."
To beat the Denver defense, the Chiefs admitted this week that getting the football in the hands of running back Jamaal Charles will be critical after he only touched the ball 11 times against the Titans.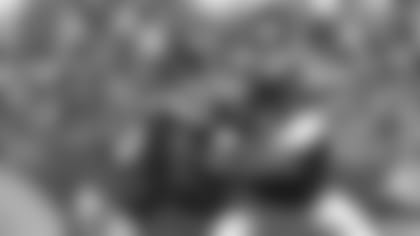 "Every game Jamaal has to touch the football—bottom line," Pederson said Thursday. "We know teams are going to scheme for him but we also scheme for that and have the ability to get him in a lot of different positions. We just have to make a conscious effort to get him the football."
Through the air, the Chiefs welcome back wide receiver Dwayne Bowe, who after a one-game suspension, is ready to return to the football field. All week long, he has provided perspective to the other players on what is the marathon of the NFL season.
"It's one game at a time, one play at a time," Bowe said he has urged the other players. "Just play with energy and play with passion, just play your game and that's what I'm preaching to everybody in the locker room."
Facing an a 0-1 record and countless injuries, the Chiefs travel to Denver on Sunday in their first divisional matchup of the season and one that will surely test the depth of the team.
But while key departures like Allen, Johnson and DeVito will hurt, what remains in their place is a team with unyielding belief.
To them, the depth is there. The season is far from over, and they possess more than enough talent to come away with the victory.
"We have all the players we need; we have the coaches we need," Eric Berry said this week. "We have everything that we could possibly want in a team. All it's going to take is us coming together and just imposing our will on the other team."