The long-awaited, much-anticipated debut of the 2013 Kansas City Chiefs begins today, months after team chairman and CEO Clark Hunt hired head coach Andy Reid and general manager John Dorsey to find the 'best players available' to make the proud family-owned team once again competitive, for the best fans in the world.
That team finds itself just hours away from stepping onto EverBank Field for its Week 1 matchup against the Jacksonville Jaguars, a team also under the direction of new general manager David Caldwell and new head coach Gus Bradley.
Regardless of all the changes, Chiefs head coach Andy Reid kept his team's mission in perspective.
"We have good players," coach Reid said. "We have a good scheme, Dave (Toub) does a good job with the (special teams) guys, I just expect, along with the offense, the defense, all of us to execute and if you do that, normally good things will happen. I'm not sure, because it's early, but every snap we will have an opportunity to be productive."
The guy in charge of leading the Chiefs offense to productive results is QB Alex Smith, who is expecting to see a lot of different looks from the Jaguars.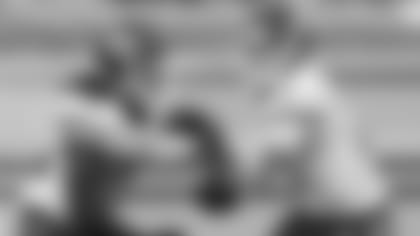 "Yeah, I'm sure with new coaches in both places, kind of new systems and a lot of new faces, the coaches have that chess match in mind," Smith said. "For us as players, we're ready to make adjustments, ready for in-game adjustments if something new does come up and being able to deal with it on the sidelines and move forward."
Helping Alex, in addition to coach Reid is QBs coach Matt Nagy and offensive coordinator Doug Pederson, who anticipates a very aggressive Jags defense.
"Their front seven is pretty good," Pederson said. "They're very active. It's proof that they stunt quite a bit. They move around Jason Babin. He is one of the elite pass rushers in the National Football League. Big number 93 (Tyson Alualu) on the other end, he's a dominant force. Even with some of their subs and nickel packages, they put him inside and he's most effective. The linebackers are fast guys, and it's a fast-tempo defense. They play fast and that obviously comes from (Jags DC) coach Babich."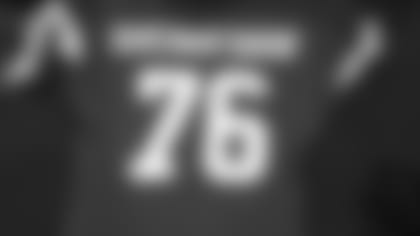 If and when Jason Babin finds himself lined up against Chiefs rookie RT Eric Fisher, coach Pederson is confident in his team's top pick.
"Fish is up for the challenge," Pederson said. "It'll be interesting to see how he handles that. Babin is a crafty guy and Fisher will have his work cut out for him, but expect big things from Fish."
If the Chiefs OL provides Alex Smith with time as expected, he'll have a variety of options to choose from, including Pro Bowl RB Jamaal Charles and WRs Dexter McCluster, Donnie Avery and Dwayne Bowe, who says the team's selflessness can lead to ultimately what the Chiefs want most, wins.
"I enjoy whatever it takes to win the game," Bowe said. "If that means me making a block down the field for Jamaal (Charles) or even catching a ball one yard out and going 50 (yards), it's all the same."
As far as who will be throwing balls to the Jaguars WRs, it's still uncertain, as Jaguars QB Blaine Gabbert is listed as questionable with a right-thumb injury. Regardless if it's Gabbert or Jaguars back-up Chad Henne, Chiefs defensive coordinator Bob Sutton's guys are ready.
"Both quarterbacks (Gabbert and Henne) have played in the past," coach Sutton said. "I don't see their offense playing significantly different, they are still built around 32 (Jones-Drew) and 89 the tight end (Marcedes Lewis). I don't see anything dramatically different."
While Marcedes Lewis will not play today (calf injury), Jaguars RB Maurice Jones-Drew will, which coach Sutton's defense has been planning for.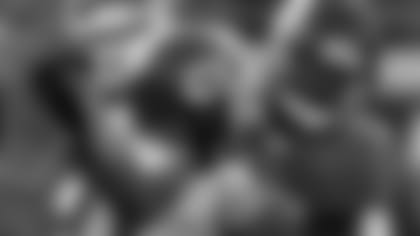 "First and foremost, you have to take care of number 32 (Maurice Jones-Drew)," Sutton said. "He is an outstanding back. He's one of those guys that can take nothing and make it into something really productive, from an offensive standpoint. He's a very difficult guy to find, because of his height, he's a short guy, and even maybe more difficult to tackle, because of the way he's put together. He's a good football player; he can bounce out or he can cut all the way back. He's a big part of their offense."
Following coach Sutton from the New York Jets to the Chiefs is DE Mike DeVito, who described the Jaguars offensive line, which includes rookie RT Luke Joeckel.
"I think they have a really good line," DeVito said. "They can do a lot of different things. They're quick and athletic enough to run their zone stuff and they can also power up and run it downhill, gap-scheme stuff, so it's going to be a good challenge for us up-front."
Sutton's defense will rely a lot on its secondary to shut down the Jaguars deep threats, as described by Chiefs CB Sean Smith.
"They all bring something new to the game," Smith said. "They're very explosive, so our defense has its hands full this week."
Speaking of explosive, the Chiefs special teams unit plans to continue its stellar play from preseason, led by special teams coordinator Dave Toub and assistant Kevin O'Dea.
"Make no mistake, it's about players," Toub said. "You have to have players. You can have a good system but if you don't have players running the system, in the NFL, you're going to get burned. We have a good core of players. We have a good young group of guys that are really enthusiastic about special teams. We have a head coach that preaches special teams and gives me a lot of time to get these guys ready. So, all of those things combined help us become pretty good."
Just hours away from kickoff, the Chiefs will embark on the 2013 voyage known as the regular season, backed by Chiefs fans worldwide, all hoping for a Week 1 win to start the journey off in the right direction.