GAMETIME: 7:30 p.m. CST on Monday, September 27LOCATION: Arrowhead Stadium, Kansas City, MOHOW TO WATCH: ESPN (KMBC Local)HOW TO LISTEN: 101.1 The FoxGAMCENTER/LIVEBLOG:KCChiefs.com
According to the Guinness Book of World Records, the magic number is 137.7 decibels.
To give you some perspective, that's louder than a jackhammer (95 dB), a motorcycle (100 dB) and a loud rock concert (115 dB). But most importantly, it's louder than the self-dubbed "12th Man" was at Century Link Stadium in Seattle on December 2, 2013 (137.6 dB).
Seattle fans set the record for loudest crowd roar at a sports stadium that night, taking it away from fans of the Kansas City Chiefs (1-2).
Now, Chiefs fans will try to take back that record on one of the biggest stages in pro sports: Monday Night Football.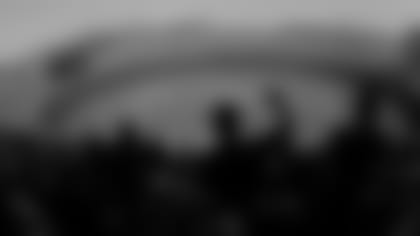 "We welcome people into that atmosphere," head coach Andy Reid said. "The Sea of Red is something when it gets cranking. I have this feeling that they're probably going to set a new record."
As the fans chase the record, they won't need to look far for something to cheer for.
Looking for their second win, the Chiefs take on the New England Patriots (2-1), who have won their last two games in a row.
Reid admitted this week that preparing for New England many times can be a challenge because they never give you quite the same look.
"I think every game is different when you play them," he said of New England. "Depending on what he (coach Bill Belichick) sees in you, they're going to throw the ball a little bit more. Other times, like against the Colts in the playoffs, they ran it near every time.
"You're going to get a different flavor every time you play and that's what good coaches do."
Patriots head coach Bill Belichick's résumé speaks for itself. Since his tenure with the Patriots began in New England 13 years ago, the team has played in the playoffs 10 times, won five AFC championships and three Super Bowls.
"I think his record stands on its own right there. He's a very intelligent man," Reid said of his counterpart this week. "We've had an opportunity to compete against each other and that's always exciting. So, we get another shot at it. We've been doing it a couple of years. We've been hanging around here."
What has made the Patriots so consistent over the years has been an ability to shift schemes with an ever-changing roster. But as personnel have changed, one position that has remained constant is at quarterback in nine-time Pro Bowler Tom Brady (No. 12).
"He's a guy who has Hall of Fame talent and that free agent work ethic," Chiefs defensive coordinator Bob Sutton said. "He's always prepared, he understands what is happening [and] he understands the opponent very well."
Through three games, Brady is having a solid, but not yet typically spectacular, season. So far, he has completed 67 of 114 passes for 632 yards, three touchdowns and no interceptions. But he has already been sacked seven times.
The Chiefs hope to add to that sack total by putting pressure on the quarterback.
"It's critical," Sutton said this week. "Like we say, you don't want him to be out here in seven-on-seven, where he's completely in rhythm, comfortable, visions good, everything's there and go."
One of Brady's favorite weapons, Rob Gronkowski (No. 87), is listed as probable for the game and also could provide problems for the Chiefs.
"Gronkowski's got unusual size, huge hands, he can grab about anything that goes up in the air and he's a big body guy that runs," Sutton said.
On the outside, wide receiver Julian Edelman (No. 11) will also be a player to watch. In 2014, he has already compiled 260 yards receiving, ahead of the second-place Gronkowski by 144 yards.
Pressuring the quarterback will thus be pivotal in countering those New England weapons. Fortunately so far, the Chiefs have shown an ability to do that. They have already amassed nine sacks on the year, including getting to Dolphins quarterback Ryan Tannehill four times last week.
On offense, the Chiefs should be aided by the return of their best player in running back Jamaal Charles, who is officially listed as probable after sitting out last weekend against the Dolphins.
"He did everything," Reid said of Jamaal Charles in practice on Saturday.
In the passing game, look for Chiefs quarterback Alex Smith to try and get the ball to tight end Travis Kelce, who along with leading the team in yards receiving (166), is amped for his first ever Monday Night Football experience.
"It's prime time. The lights are going to be on," he said. "It's going to be fun. Hopefully Arrowhead gives us the rocking stadium that we're used to and get the Sea of Red jumping."
He went on to discuss what he sees in the Patriots defense.
"They're a very stout defense," he said. "But as football is, you got to come out and play physical. Take them both physically and mentally out of the game and then from that point on, it's just based off of execution and making plays when needed."
Smith will be dealing with a New England secondary boosted by the offseason signing of cornerback Darrelle Revis (No. 24). Revis, along with safeties Devin McCourty (No. 32) and Patrick Chung (No. 33), have made it tough for offenses to throw the long ball this season.
Revis and McCourty already have a pick apiece included in six total team interceptions and eight total turnovers forced by the Patriots this year.
The Chiefs, who forced 36 turnovers last season, still are looking for their first.
"We talked to our players about it," Sutton said.  "Turnovers, you just have to keep doing all of the things that allow you to get those and that's play fast, play hard [and] play physical."
The Chiefs, inspired by a raucous crowd, will look to play physical this Monday night as they attempt to grab their second win in a row in their only national televised game of the season.
In a game where affecting such a talented opposing quarterback will be crucial, a packed Arrowhead crowd and hopefully a 137.7-decibel noise level could play a significant role in the game.
As the city of Kansas City attempts to take down Seattle in the record books, the Chiefs set their focus on getting back to .500 by beating the New England Patriots on the national stage.
View photos of the starting roster for the New England Patriots.