The Kansas City Chiefs collide with the Houston Texans for the sixth time in franchise history on Sunday, with kickoff set for 3:25 PM CDT.
Seeking their seventh win of the 2013 season, protocol remained the same at One Arrowhead Drive this week; the Chiefs continue to ignore team records, respect and prepare for their opponent, while aiming to improve in every facet of the game.
Chiefs head coach Andy Reid spoke about the talented Houston Texans team, throughout the week, including on Friday.
"We look forward to the challenge of playing the Texans," coach Reid said. "We know they're a good football team, very talented and well coached. I know what kind of coach Gary Kubiak is. I know what kind of coach Wade Phillips and the other guys on that staff are and then, I know the quality of football players that they have. We've got our work cut out for us."
The Texans enter Arrowhead Stadium leading the league in total defense (252.8 avg.) and pass defense (131.3 avg.). Headlining the top-ranked defense are 2012 defensive player of the year DE J.J. Watt., who has 45 tackles, 11 tackles for loss and 14 quarterback hits, and ILB Brian Cushing, who leads the team with 60 tackles and has seven tackles for loss with 1.5 sacks and an interception.
Opposing the Texans defense is a Chiefs offense that includes Pro Bowl RB Jamaal Charles, who enters Sunday's game with 475 rushing yards and five TDs, as well as 300 receiving yards and two TD receptions. Charles described Watt, Cushing and the entire Texans defense.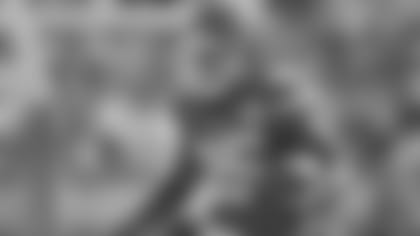 "He's a great player," Charles said of Watt. "You look at their whole defense and they swarm to the football. I think they are one of the toughest defenses. J.J. Watt can really mess up the entire offensive play; we really have to put our hands on him, not just him, but (linebacker Brian) Cushing and (defensive end Antonio) Smith; around the board, I think they're a complete defense. This is the type of game I want to play in."
Helping Jamaal on Sunday will be the Chiefs offensive line, including Jeff Allen, who offered some 'must-dos' against Watt and company.
"It's the NFL, every week is a big challenge," Allen said. "Of course, we have the defensive player of the year, up-front, coming up this week in J.J. Watt. He's definitely a special player, but I think we're up for the challenge."
Relying on Allen and the rest of the offensive line will be Chiefs QB Alex Smith, who admitted that Watt is just one of the many talented stars on the Texans.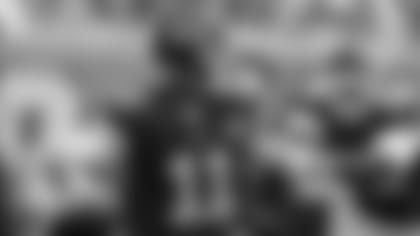 "They have a lot of good players, across the board," Smith said. "I think it starts with those guys up-front, they do a great job of playing run and the pass and especially him. I think most guys get credit for sacks, but you see him do a great job against the run. They create pressure in the pocket; there's a reason statistically why they've been doing so well."
One of Smith's many targets on Sunday will be Chiefs WR Donnie Avery, who has 18 receptions for 310 yards and one TD in 2013. Avery previewed what he expects to see from the Texans defense.
"They like to play man coverage," Avery said. "They're very physical, fast guys. They try to go after you too, when you get close to the red zone on certain type of blitzes. We just have to stay tuned in and we have to capitalize, when they blitz."
Like the Texans, the Chiefs have a defense that has been as advertised in 2013, including recently awarded AFC Defensive Player of the Week, Chiefs LB Tamba Hali, who has 17 tackles and 6.5 sacks this season. Hali spoke to the strong rushing attack of the Texans.
"They're a very sound team," Hali said. "They run the stretch, the press and they're a zone type of team that can run to each side. If you're not sound in your gap, they can break it; that's what zone teams do. They keep pounding it. They keep doing it like that and if one person jumps out of his gap, they'll go 40, 50 yards. On our end, we know that we have to play sound football and just make sure that everybody is in position to make plays and keep the ball in the corner and keep Texans RB Arian Foster from running around, because he's a real good back."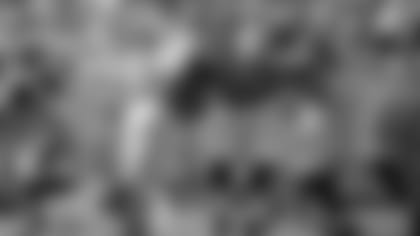 The Chiefs defensive line, including DE Mike DeVito, will play a large role in disrupting the Texans offense, including their QB Case Keenum, who will make his first NFL start on Sunday.
DeVito described the Chiefs mentality, entering Week 7.
"Coach (Bob) Sutton and coach (Tommy) Brasher continue to prepare us for every situation that we'll face, just like Sunday, with Case at QB," DeVito said. "We know he's in that spot for a reason; we're going to try to pressure him as much as possible and try to slow down Arian Foster and their solid rushing attack."
As for the receivers that Keenum will be targeting, Texans WR Andre Johnson continues to excel, leading the NFL with 44 receptions and a team-high 495 yards.
Chiefs CB Sean Smith isn't surprised by the continued production by Johnson.
"Andre is a guy that can make all the plays," Smith said. "He's been doing it for years and he's still doing it. You definitely have to have two guys on him at all times, because he makes all the right plays at the right moments."
No contest is complete, without the special teams phase of the game and Chiefs special teams coordinator Dave Toub addressed the threat posed by the Texans WR Keshawn Martin.
"He's very dangerous," coach Toub said. "He does both punt and kick return; he's a very explosive player and he's got great acceleration. We have to be disciplined. We have to stay in our net, which means everybody has to stay in their lanes and be really disciplined and rally to the ball. He doesn't go down; he's a tough guy. He spins and he creates; he gets a lot of yardage, after the first hit. We're going to have to be sharp this week."
Chiefs WR and punt return specialist Dexter McCluster put Sunday's game in perspective, knowing that the Texans will be more than ready for what Houston hopes is an upset victory.
"Houston, they're a team that's hungry, hungry to win," McCluster said. "We know they want to come in and upset us, but we have to worry about us and what we want to do; if we do that, we have shown that good things can happen."
Chiefs fans are hoping the good things Dex referred to will continue on Sunday.