The Kansas City Chiefs and the St. Louis Rams are tied, 17-17, through one half of play in their fourth and final preseason game at the Edward Jones Dome in St. Louis, Mo.
The Rams started the game with their first team on the field and the ball. On third down, quarterback Nick Foles threw to his left while attempting to find tight end Jared Cook, but it bounced off Cook's hands in the air and into the grasp of safety Daniel Sorensen, who took it back to the St. Louis 8-yard line.
A 7-yard rush from fullback Spencer Ware brought the Chiefs to the 1-yard line, and on second down, Ware pounded the ball in for a touchdown and a 7-0 Chiefs lead.
S Cody Davis gave the Rams a 14-7 lead with about four minutes left in the first quarter on an interception returned for a touchdown.
At the end of one quarter, the Rams led 14-7.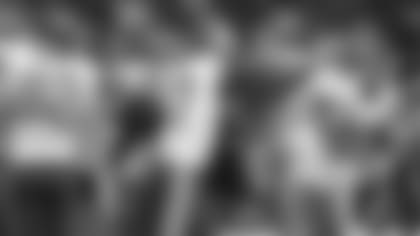 The Chiefs tied the game at 14 when QB Chase Daniel connected with wide receiver Chris Conley for a 15-yard touchdown strike. It was Conley's first touchdown reception of the preseason.
Chiefs kicker Cairo Santos hit a 23-yard field goal in the second to make it 17-14, but Rams K Greg Zuerlein tied the game at 17 on a 57-yard field goal right before the half.