On New Years Eve, the Chiefs Community Caring Team (CCCT), including Chiefs Ambassador Anthony Davis and Chiefs Cheerleaders, visited the Don Bosco Senior Center to help the seniors ring in the New Year.
For over 20 years, the Don Bosco Senior Center has been helping seniors age 60 and over and adults with disabilities maintain independent living by providing meals, transportation, fellowship and activities that promote health, education, and recreation. The Chiefs and Don Bosco have an active partnership and on Tuesday, the CCCT hosted a Chiefs-edition bingo game.
"We are so thankful to have the Chiefs as frequent visitors," Anne Miller, Senior Center Director noted. "It was wonderful having Anthony Davis here calling bingo and the Cheerleaders passing out hats and noise makers to the group. Everyone had a great time and really enjoyed the afternoon."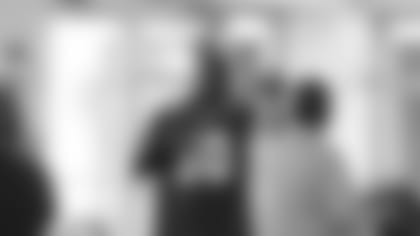 For the winners of bingo, the Chiefs handed out football themed prizes, including hats, Chiefs Checkers and autographed footballs.
"It was interesting to see how competitive the group got, especially when Anthony mentioned that there were a pair of team autographed footballs up for grabs for the winners of the final two rounds of bingo," Chuck Castellano, Chiefs Community Relations Manager explained. "After that, Anthony and the Cheerleaders led the group in a countdown and toast for the New Year then signed autographs. This is always one of the CCCT's favorite stops and it was so great to see how much excitement these seniors had for the Chiefs."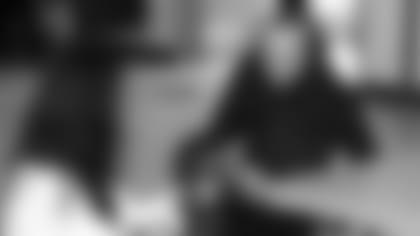 The seniors were delighted to spend the afternoon with the Chiefs. With their New Years hats, necklaces, noisemakers and sparkling cider in hand, the seniors counted down to the New Year, celebrating and cheering.
Although it was only noon, they didn't mind celebrating the start of 2014 before lunch.
"The seniors were great; they were very excited to see us and were very competitive at bingo," Anthony Davis commented. "They were a lot of fun, it was great to see how excited they were to celebrate today and it meant a lot to see their support for the Chiefs."