It's a thing of dreams – a pair of high school teammates donning the same jersey on a Sunday afternoon in the fall.
That dream became a reality for former Clemson linebacker Dorian O'Daniel on Friday, as the Kansas City Chiefs selected him with the final pick of the third round and paired him with childhood friend Kendall Fuller along Kansas City's defense.
And amazingly enough, the two players were together when the call came through.
"When I called Dorian, Kendall answered and I thought I had the wrong number," said Chiefs' General Manager Brett Veach. "Kendall was screaming and hootin' and hollerin'. It was special. I knew they went to high school together and that they were close, so when I called and I heard Kendall screaming, it was a pretty cool deal."
It's a call that O'Daniel didn't think was coming as the third round began to wind to a close.
"I kid you not, I had just shut down my draft party," O'Daniel said. "I was like, 'OK, last pick is in, thank you all for coming out.' I was walking people to the door when I got the call and everybody just started giving me that look. Sure enough, I realized what was going on and I looked at Kendall, we made that eye contact, he knew what was going on and then from there it was just a huge uproar. It was really surreal."
O'Daniel was certainly worthy of the selection. A four-year player at Clemson, O'Daniel tallied 104 tackles, 11.5 tackles-for-loss, five sacks, two interceptions and two fumble recoveries in 14 games for the Tigers. His play earned him a spot on Sports Illustrated's All-American team and among the five finalists for the Butkus Award, which is annually given to the nation's top linebacker.
Unbeknownst to O'Daniel, it was a resume that had the versatile linebacker set to reunite with Fuller for the first time since the duo represented Our Lady of Good Counsel High School in the U.S. Army All-American Bowl in 2013.
"Just seeing his work ethic all through high school, seeing him grind and put it together and have success at Clemson, just fighting through everything, it's a lot," Fuller said. "Really, just being here for him on his day after all the work he's done to finally turn it in and make it - and he still has a lot of work to do - but for him to get that foot in the door is definitely a blessing."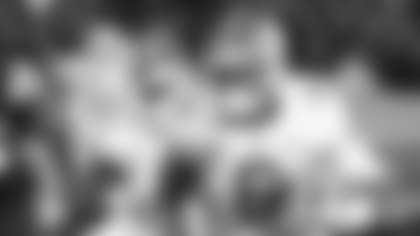 And though just a rookie, O'Daniel's relationship with Fuller will provide a sense of familiarity as he begins his professional career.
"I'm just so thankful because we've been through adversity. We've played together, he knows what I'm about and I know what he's about," O'Daniel said. "(It's big) to have that chemistry going forward and for me to work with him, because he's already a seasoned vet. I'm just ready to come in and work and fire on all cylinders."
That chemistry – forged on Friday nights in Maryland – will now have a chance to show what it can do in Kansas City.
"I want to let Kansas City know that they're getting someone who is going to give it all they have," O'Daniel said. "Whenever I get a chance to be on the field, they're going to get every ounce of me."