One cut. That's all it took to see what the fuss was all about.
During a team period Sunday afternoon at Kansas City Chiefs rookie minicamp, former LSU running back Darrel Williams, who had signed as a college free agent a few days' prior, took a handoff off the left side of the offensive line, and then about eight yards down the field, Williams planted his left foot and cut back to the right, accelerating through a running lane and into the open field.
And it also caused an audible gasp from many of the other players and the coaches on the field, which is impressive on its own considering these practices aren't in pads and there's no contact allowed. Most of the flashy plays that get remembered from these practices are by the receivers and defensive backs, and so for a running back to turn heads and cause some jaws to drop a bit—says everything.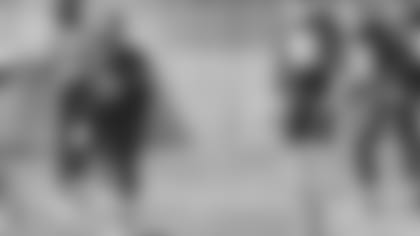 The following day after the conclusion of the minicamp, Williams easily remembered the cut upon the first mention of a "play" he made on Sunday.
"Yeah, it was in team," he said, smiling. "I remember that one."
Williams, who ranked as one of the legend Gil Brandt's top undrafted free agent players available at the conclusion of the 2018 NFL Draft, was one of 68 players to take the field during the Chiefs' three-day minicamp, which included all six draft picks this year, the 14 undrafted free agents (like Williams) who recently signed, a number of tryout guys and a handful of eligible players who spent time with the Chiefs last year.
"It was truly a blessing," Williams said of the opportunity to put on NFL attire for the first time. "My dream is finally coming true, and I've got to take advantage of every opportunity I get because where I come from, not everybody gets these opportunities."
As a high school senior at John Ehret High School in Monroe, Louisiana, Williams was rated as a four-star prospect and the No. 2 running back in the state—rushing for 2,201 yards and 32 touchdowns.
The player who ranked above him that year? Leonard Fournette.
But despite Fournette—the No. 4 overall pick in last year's draft and one of the best running back prospects in the league over the past few years—also choosing LSU out of high school, that didn't dissuade Williams from attending his "dream school" of LSU—even if it meant taking a secondary role.
Williams enters a situation in Kansas City in which there's also a lot of talent in the backfield.
Last year, Kareem Hunt led the league in rushing as a rookie. Spencer Ware and Charcandrick West have taken lead roles at different times during their tenures with the Chiefs, and general manager Brett Veach still went out and signed both Kerwynn Williams and Damien Williams this offseason to add even more competition. Both of those guys also have NFL experience.
"I just felt like it was the best fit for me," Williams said of his decision to sign to the Chiefs. "They've got a great group of running backs here, and I was going to be able to come in and compete for a spot and try to make the team."
Williams, who had his choice of where to sign, specifically cited his relationship with Chiefs' running backs' coach Deland McCullough, which began with a meeting at the Senior Bowl in Mobile, Alabama, last January, as another reason for his decision.
"I've been talking to him since the Senior Bowl," Williams said of his relationship with McCollough. "The bond we have is one of a kind—it's like he's been coaching me for years. It's just been a great experience."
Williams wasn't a household name in a deep running back class this year because most of the attention went to his other LSU teammate—Derrius Guice, who took over as the starter after Fournette and who many experts thought would be selected in the first round of this year's draft.
Guice was eventually taken in the second round (No. 59 overall) by the Washington Redskins.
In his first season with significant action, Williams, who was described to Brugler by an LSU assistant coach as a "humble leader," averaged 5.7 yards per carry after carrying the ball 145 times for 820 yards with nine touchdowns last year. He had a total of 176 carries in the three previous seasons combined.
Williams measures in at an impressive 5-feet-11 and 225 pounds and one of the most intriguing things about him is the fact that he had to learn a whole new offense last year under LSU's new offensive coordinator—Matt Canada, who made running backs catching the ball out of the backfield a bigger part of their offense.
And it fit Williams well—even with his size. He finished last season with 23 catches out of the backfield for 331 yards (14.4 ypr), which is impressive for a guy that's mainly noted for his abilities as a North and South runner.
In fact, Brugler mentioned in his scouting report that Williams finished last year with six offensive plays of at least 35 yards and that Guice only had two with 87 more offensive touches.
Last year, Williams also became the first player in LSU history to have at least 100 yards rushing and receiving in the same game (Ole Miss).
"He's so reliable," Brugler added of Williams. "He's a no-nonsense guy. He's going to square his shoulders to the line of scrimmage and he's going to pound the rock. He had one fumble in his entire career and that came his freshman season, plus he recovered it, which is exactly the same as Kareem Hunt. Hunt had one fumble his entire career at Toledo, and it came as a freshman and he recovered it."
Williams cited the Senior Bowl as a place he really felt like he showed everyone what he could do catching the ball out of the backfield.
"It's definitely a skill that doesn't get enough credit, especially with the bigger guys because usually, we think of the smaller scat backs being the pass catchers," Brugler noted. "But Williams came into the year with single-digit receptions in each of the first few seasons at LSU, and he got better in that area. It wasn't just dink and dunk, I mean he had chunk receptions. He averaged over 14-yards a catch, so it wasn't just in the screen game.
"I think just the fact that he earned the team's MVP honor while on a team loaded with a lot of talent should tell you exactly what he meant to the LSU offense this year."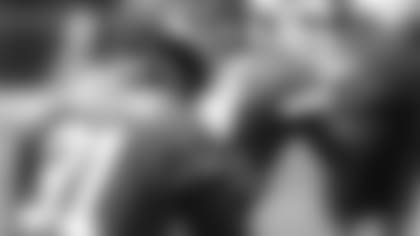 Williams prides himself on being an all-around player.
"I can do whatever—block, come out of the backfield and catch, give you that long touchdown run, or give you that short yardage—third-and-1, fourth-and-1 carry—whatever you need, I can do."
Brugler spoke about Williams' potential opportunity with the Chiefs.
"It seems like a pretty stacked depth chart," Brugler said. "It's crowded but going into training camp there's going to be plenty of opportunities, and I like his chances. He's a reliable guy and what he showed as a senior—he waited his turn and didn't transfer—didn't look to get out of there. He waited for his turn and when he got his opportunity, he made the most of it."
The fact that Williams waited and worked at LSU and made sure he was ready whenever his time did come, and that he didn't shy away from that, is a character trait that should translate well over the NFL level, particularly with a group of running backs in Kansas City that have had some success at this level.
"He's not looking to rock the boat or he's not going to complain about playing time," Brugler added. "He's going to just put his head down, work, and when his opportunity comes he's going to try and take advantage of it."