Before the Wild Card game with the Houston Texans on Saturday, Kansas City Chiefs head coach Andy Reid sent out six players to serve as team captains for the official coin toss.
Wide receiver Jeremy Maclin and quarterback Alex Smith represented the offense, safety Eric Berry and linebacker Derrick Johnson represented the defense and punter Dustin Colquitt and S Daniel Sorensen represented the special teams unit.
This, according to Reid, was by specific design, something he learned in Green Bay during his time spent under legendary coach Mike Holmgren. Reid served as an assistant coach when Holmgren was the Packers head coach from 1992 to 1998.
"Holmgren did it that way, and I liked it," Reid said. "It gave everybody else an opportunity to be a captain throughout the year. It gave the team an opportunity in the playoffs to pick six captains—two on offense, two on defense, two on special teams."
Holmgren spoke to the media about his captain-selection process when his Seattle Seahawks headed to the postseason in 1999.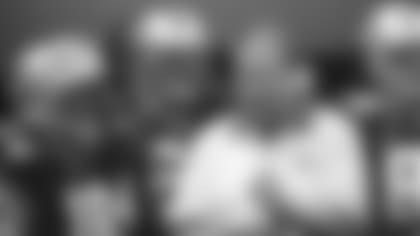 That year, he announced the captains would be QB Jon Kitna and running back Ricky Watters on offense, defensive tackle Cortez Kennedy and LB Chad Brown on defense and LB James Logan and WR Fabien Bownes on special teams.
"I started that in Green Bay," Holmgren said at the time, via ESPN. "I've talked about leadership this season already. These players were chosen by their teammates. With that honor comes responsibility in my opinion. Those fellows are all different. You look at the list, and they're all quite different. I'm counting on them to be a little bit more in the playoffs."
Fast forward 16 years later, and Reid has stuck with Holmgren's methodology, explaining that Maclin, Smith, Berry, Johnson, Colquitt and Sorensen would serve as captains for the Chiefs throughout the entirety of the 2015 playoffs.