Three weeks into free agency and less than a month from the 2016 NFL Draft, general manager John Dorsey has maintained his focus of keeping production in-house and building upon what the Kansas City Chiefs have already established.
Retaining vital defensive contributors such as Tamba Hali, Derrick Johnson, Jaye Howard and Eric Berry, followed by the addition of free-agent wide receiver Rod Streater and top offensive tackle Mitch Schwartz, are just a few key offseason moves.
Retaining value and looking ahead long term, Dorsey followed his theory of "not [letting] good football players go."
"I want to build a program," Dorsey said at the 2016 NFL Scouting Combine. "We try to build that up every year. Then you begin to see the holes that you need to fill in there. Then all of a sudden you have to factor that formula into the best available player approach as well.  And I foresee this year not being any different from all the years that I've been doing this."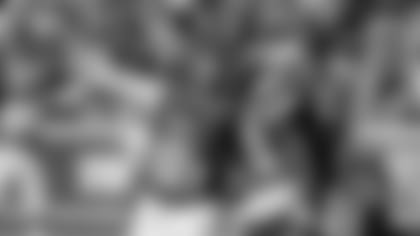 NFL.com, CBS Sports and Pro Football Focus all gave their grades on how the Chiefs have done so far this offseason.
Here's what they had to say:
PRO FOOTBALL FOCUS -Michael Renner
"The Chiefs did well by their offensive line, adding our highest-graded right tackle from a year ago in Mitchell Schwartz for fairly cheap. Outside of him, much of their free-agency dollars were spent simply retaining their defense. Tamba Hali and Derrick Johnson signed team-friendly deals that should see them retiring in Chiefs' uniforms, while they tagged Eric Berry and brought back Jaye Howard."
"The Chiefs did a really nice job of keeping their own. They re-signed edge rusher Tamba Hali, linebacker Derrick Johnson and defensive end Jaye Howard, a rising player. They added Mitchell Schwartz to play right tackle, and he's an upgrade over Donald Stephenson, who went to the Broncos. They did lose corner Sean Smith and guard Jeff Allen, two quality starters. I like the idea of keeping that defense intact for the most part. Schwartz is an upgrade."
"This was such an Andy Reid-John Dorsey free-agent period. "They stayed out of the headlines and were quietly effective, retaining Jaye Howard, Derrick Johnson and Tamba Hali for reasonable prices (Howard came at an especially surprising price). Right tackle Mitchell Schwartz upgrades a longtime trouble spot. Losing Sean Smith to a division rival stings, but this is the type of no-nonsense free agent periods that good teams enjoy before putting up another 10 wins in the standings.