As the fourth-round pick of the Seattle Seahawks back in 2012, Jaye Howard spent just one season in the Pacific Northwest before being released in August 2013.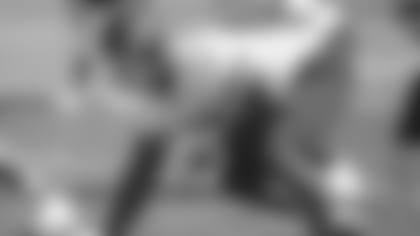 After being picked up on waivers by the Chiefs just one day later, Howard finally got his opportunity on the field against the Chargers in the Chiefs last regular season game of 2013.
Taking advantage of the opportunity, Howard played well and finished the game with six tackles.
Consequently, Howard was recently given another opportunity.
When veteran defensive lineman Mike DeVito wasn't able to play in the Chiefs preseason opener because of a broken hand, Howard's name was called once again.
He got the start at right defensive end with the first-team defense against the Bengals.
Chiefs head coach Andy Reid recently spoke of Howard.
"He's an explosive football player," Reid said. "Jaye is working on putting good plays back-to-back and he's done that. Coach (Tommy) Brasher has been good for them in teaching them fundamentals and technique and then staying on them about that."
Early in the game against the Bengals, Howard showed the ability to disengage a Bengals offensive lineman's block and make the tackle in stopping the run.
Defensive coordinator Bob Sutton spoke on Howard's performance against the Bengals after practice on Saturday.
"I thought he did a good job," Sutton said. "He's got a lot of little things he's got to work on. I think he's done a good job in camp."
Sutton has regularly said that positional flexibility is a plus for any player fighting for a spot on the Chiefs roster.
"He has been able to have some flexibility in where he's played," Sutton said. "He has flashes of really good athleticism. He can be a very explosive guy. From his standpoint, the thing he has to do is become more consistent. If he does that, he is going to be a really good football player for us."
Howard displayed the explosiveness both Reid and Sutton praised him for with a sack of Bengals quarterback Matt Scott in the third quarter of Thursday's game.
Stepping in for DeVito, Howard felt good starting with the first-team defense.
"It felt great," Howard said. "Just to get out there and be against the ones for like ten plays—it felt good to show the defense what I can do."
Just like most of his teammates have said throughout training camp, Howard feels more comfortable in this system here in his second year.
"I'm starting to feel comfortable in the system now and not thinking as much but just reacting," Howard said.
The ability to play fast and just react to what is happening around him meshes with what Howard likes about the physicality of Sutton's defensive scheme.
"They preach knock-back technique," Howard said. "They want us to be physical. That's part of the game of life. Just get out there, just grind and knock somebody back."
Despite a good performance and a starting position in the first preseason game, Howard knows there's a lot more work to do moving forward. He says his approach doesn't change.
"I feel like I just have to build every day," Howard said. "Just put one practice in, one back-to-back. Just building blocks every single day."
While DeVito will return to the starting lineup when healthy, Howard will continue to battle for playing time with the others as the Chiefs prepare for their next preseason game against the Carolina Panthers next Sunday in Charlotte, North Carolina.
Images of DL Jaye Howard from Training Camp.