The Kansas City Chiefs will host the Tennessee Titans for an AFC Wild Card game at 3:35 p.m. on Saturday, Jan. 6. As always, fans are encouraged to arrive at the Truman Sports Complex as early as possible. Fans can find other important information and reminders about Saturday's game below.
PLAYOFF RALLY TOWEL GIVEAWAY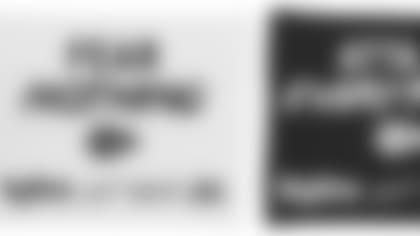 To celebrate a second-consecutive AFC West title and another home playoff game, Hy-Vee, the presenting partner of the Chiefs Playoffs, will be giving away a rally towel to all fans as they enter the Arrowhead Stadium gates.
NATIONAL ANTHEM, COLOR GUARD AND FLYOVER
Platinum recording artist Clay Walker will perform Saturday's national anthem. The Color Guard will be from the Fort Leonard Wood Non-Commissioned Officers Academy. There will be a B-2 flyover from 509th Bomb Wing at Whiteman Air Force Base, weather permitting.
Tickets for the AFC Wild Card game are currently on sale and can be purchased online at www.chiefs.com. All single-game tickets purchased are mobile-entry only. Season Ticket Memberships for 2018 are available now and include access to AFC Wild Card tickets at Season Ticket Member rates. For more information, visit www.chiefs.com or call (888) 99-CHIEFS (24433).
The Kansas City Chiefs and Arrowhead Stadium staff are advising fans to be aware of counterfeit and other fraudulent tickets and parking passes. All fans are encouraged to purchase tickets and parking passes directly from the team or from the NFL Ticket Exchange and are advised to avoid purchasing pre-printed tickets and passes because of the possibility of counterfeiting.
Create your game plan by visiting www.chiefs.com/parking. Parking lot gates for Saturday's game open at 10:30 a.m. Fans are encouraged to purchase their parking passes in advance to decrease the time spent at parking tollgates and help expedite the parking process for all gameday visitors. Season Ticket Members who purchased season-long parking at the beginning of the year will be able to purchase prepaid parking for $30. All other prepaid parking will be $40 (plus applicable fees), while parking on the day of the game will be $60 cash at the tollgates.
STADIUM GATES All Arrowhead Stadium gates will open at 1:30 p.m. for the 3:35 p.m. kickoff. Gates for guests with tickets on the Scout Investments Club Level will open at 1 p.m.