This year's Chiefs team finished regular season play with an 11-5 record, after finishing 2-14 the previous season, completing the greatest single-season turnaround in franchise history.
Andy Reid is one of six-active NFL head coaches with over 100 victories.
Kansas City outscored its opponents 430 to 305.
The team led the NFL in average starting-field position, averaging the 33.4 yard-line and ranked first in average-opponent starting field position at the 23.2 yard-line.
This season, the Chiefs scored 101 points in two-consecutive games, which ranked second in the most points scored in two consecutive games in franchise history. On December 8th, the Chiefs scored 45 points against the Washington Redskins and then on December 15th, the Chiefs scored 56 points against the Oakland Raiders.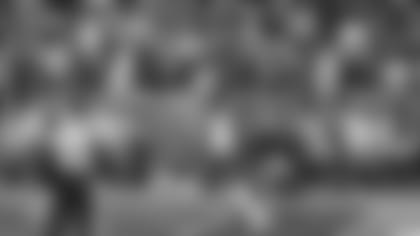 The Chiefs scored 52 touchdowns this season, the fifth most in a single season in franchise history. The 2003 season is at the top with 63 touchdowns.
The Chiefs tied a franchise record this season for the most return touchdowns at 11. The two other seasons that Kansas City scored 11 return touchdowns were in 1992 and 1999.
Kansas City's defense scored six touchdowns this season, ranking third in franchise history for most defensive touchdowns. In 1992, the Chiefs D scored eight touchdowns and in 1999, the Chiefs scored nine defensive touchdowns.
The Chiefs finished with the fifth highest completion percentage at a 60.99, just below 2002's percentage at 61.22.
Kansas City had a plus-18 turnover differential off of 15 fumble recoveries and 21 interceptions while managing to only give away 10 fumbles and eight interceptions, over 16 games.
The Chiefs were tied for sixth in the league in sacks with 47.0 for -309.0 yards.
The NFL record for highest kickoff return average in a single season was 29.4, set by the 1972 Chicago Bears. The Chiefs took over the top mark in NFL history averaging, 29.9 yards per return.
Kansas City recorded 59 punt returns this season, it is a franchise record for most punt returns.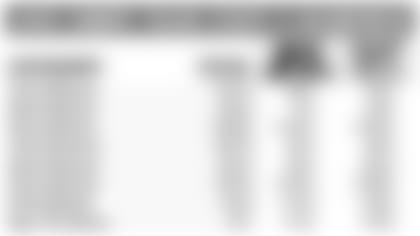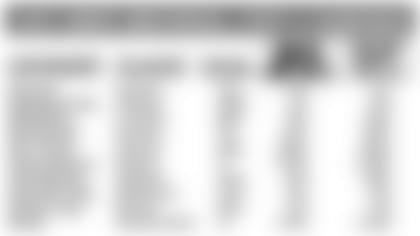 In Week 15, Charles recorded five touchdowns (one rushing, four receiving), becoming the first player in NFL history with at least four touchdown receptions and one touchdown run in a single game. His five-total touchdowns tie for the fourth-most in a single game in NFL history.
Charles finished second in the league in fourth-quarter rushing, racking up 438 yards on 80 carries with three touchdowns.
He owns three 200-yard games for his career, which is more 200-plus yard performances than any other running back in team history. RB Larry Johnson is the only other player in team history to record more than one 200-yard performance.
Charles became the fifth player in Chiefs history to record 1,000 carries. In those 1,000 carries, he accumulated 5,523 yards (5.52 avg.).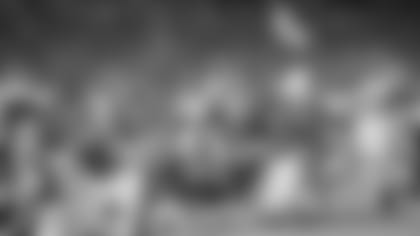 Since 2010, Chiefs QB Alex Smith has thrown the fewest interceptions in the National Football League, among quarterbacks with at least 1,400 pass attempts.
Smith completed the regular season with 308 completions, marking a single-season career high, passing his old mark of 273, set in 2011. This is the sixth time in franchise history that a Chiefs quarterback has completed more than 300 passes in a single-season. The team record for most completions in a single season is 369, set by Trent Green in 2004.
McCluster returned 58 punts for 686 yards for 11.8 yards per return average in 2013. His 686 yards ranked first in the NFL, among all returners in the 2013 season.
With an 89-yard punt return for a touchdown vs. the New York Giants in Week 4 on a P Steve Weatherford punt, McCluster owns two of the four longest punt returns in team history.
McCluster owns the top spot in franchise history with a 94-yard punt return for a touchdown vs. San Diego on Sept. 13, 2010 in his first-career NFL contest.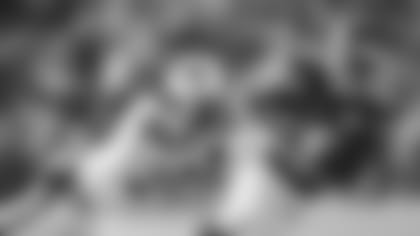 Bowe had 57 receptions in 2013, marking the sixth time in his career he has had 50 receptions in a single season. He became only the second person to record at least six 50-reception seasons in franchise history, trailing Tony Gonzalez, who had 11 such seasons.
He became the sixth player in franchise history to record 6,000 or more receiving yards in their Chiefs career. He became the fastest player to reach the 6,000-yard plateau as he recorded 6,023 receiving yards in 95 games. Of the four other players who have reached that number, Otis Taylor was the closest, accomplishing the feat in 98 games.
Houston recorded 11.0 sacks (-75.0 yards) this season. His Week 3 performance recording 4.5 sacks against Philadelphia marked the fourth 3.0-plus sack game of his career. Houston was named AFC Defensive Player of the Month for September.
Houston has recorded 26.5 sacks in 43-career games played, averaging over a half sack per game (0.62).
Hali had 11.0 sacks in 2013, giving him 73.5 sacks (-473.5 yards) for his career. He owns 18-career multi-sack games.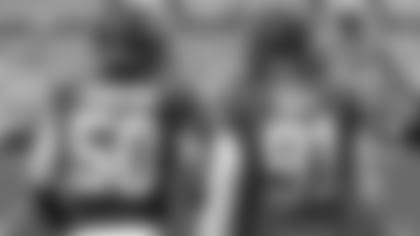 Johnson became the fourth player in franchise history to record 900 or more career stops with 981, which places him third in team history.
2013 was the fourth-consecutive season that Johnson recorded at least 100 tackles. It marks the sixth time in nine seasons that he's totaled more than 100 tackles.
At the end of regular season play, Demps ranked third in the NFL in kickoff return average of players with more than 15 returns. He finished this season with 33 returns for 992 yards (30.1 avg.).
In his first NFL start, QB Chase Daniel connected on 21 of 30 passes for 200 yards with a touchdown and no interceptions, good for a 99.3 passer rating. His two-yard touchdown throw to WR Dexter McCluster marked his first NFL touchdown pass.
Daniel added seven carries for 59 yards (8.4 avg.) in the contest, including a career-long 29-yard run in the game. His 59 yards rushing are the most by a Chiefs QB in a single-game, since Steve Bono had 74 rushing yards at Arizona on Oct. 1, 1995.
Davis recorded a 108-yard kickoff return on Dec. 1 against the Broncos at Arrowhead Stadium. That return was the longest play in Chiefs history and tied for the second longest kickoff return in NFL history.
Colquitt finished the regular season tied for first in the NFL for most punts inside the 20-yard line with 35 for the season.
He is the Chiefs all-time leader in punts inside the 20 with 285, which is more than twice as many as the next closest player in team history.
On Sunday, Oct. 13, 2013, Kansas City defeated the Oakland Raiders 24-7, and Chiefs fans set a Guinness World Record for Loudest Crowd Roar at a Sports Stadium (Outdoors). Chiefs fans reached a peak decibel reading of 137.5 as Guinness Book of World Records adjudicator Philip Robertson monitored the sound levels. Chiefs fans helped cause six Oakland pre-snap penalties, including three false starts and three delay of games. The old record of 116 decibels was shattered and Arrowhead Stadium was reclaimed.