The Chiefs are on the road again, headed to Tennessee to take on the Titans at LP Field.
QB Alex Smith said this road game will be another good test for the team and they're ready to take on the challenge.
"Every week is a test in the NFL," Smith noted. "I don't care what you say the record of the opposing team, what it may be. They're all hard and no question going on the road is even more difficult. This will be a good test for us. This is a team that's playing good football right now. The defense is playing really good football and going to their place is a challenge for us. This team looks at it like that, as a challenge, and we're going to take it on."
The two teams have met almost 50 times and Kansas City leads the all-time series by six, 26-20. The last meeting was in 2010, when the Chiefs defeated the Titans 34-14 at Arrowhead, clinching the AFC West crown.
Kansas City becomes just the second team since 1970 to start 4-0, after winning just two or fewer games the previous season. The only other team to accomplish that feat was the 1980 Detroit Lions, who won their first four contests but lost in their fifth outing. The Chiefs are the only team in history to do so with a new head coach from the previous season.
Through the first four games the Chiefs defense has allowed 41 points, marking the fewest points allowed through the first four games of any season in franchise history.
The club currently leads the league in "clock-killing" drives. Clock-killing drives are drives that begin with five minutes of time to play or less in the 4th quarter and with the driving team winning.
With a plus 9-turnover differential, the Chiefs are tied with the Titans for first in the NFL.
The Chiefs lead the league with 13 offensive drives that started in their opponent's territory; five of those ended in points, all of which were the result of a defensive takeaway.
With an 89-yard punt return for a touchdown vs. the N.Y. Giants (9/29/13), WR Dexter McCluster now owns two of the four longest punt returns in franchise history, including a 94-yard return for a touchdown vs. San Diego (9/13/10). McCluster is one of two players in franchise history to have recorded two or more punt return touchdowns.
Chiefs and Titans connections: WR Donnie Avery was on Indianapolis' roster with Tennessee DT Antonio Johnson; QB Alex Smith, WR A.J. Jenkins and Titans DE Delanie Walker were teammates in San Francisco; Titans DE Ropati Pitoitua was on the Chiefs roster in 2012; LB Nico Johnson and Titans G/C Chance Warmack were on Alabama's roster together and were a part of three BCS National Championship teams in 2009, '11 and '12
Another notable connection is Tennessee Founder, owner Chairman of the Board, President and CEO K.S. "Bud" Adams Jr; he was part of the group who founded the American Football league in 1960, along with Chiefs Founder Lamar Hunt. Bud was also a graduate of the University of Kansas and was a letterman for the Jayhawks.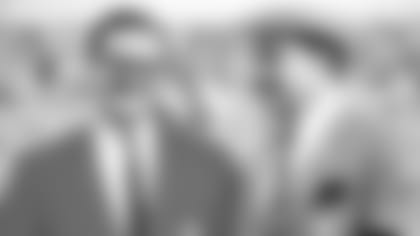 LB Justin Houston has 23.0 sacks in three seasons to tie for 11th in club history for most sacks. He needs 5.0 more sacks to pass John Browning (27.5) for a place in the Top 10 in team history.
RB Anthony Sherman has six receptions for 60 yards in 2013. With two more receptions and 12 receiving yards, he would set new single-season career highs.
LB Derrick Johnson has three career INT returns for TDs, tying for the fifth-most in team history. He needs one more to tie S Lloyd Burruss (4) for fourth.
RB Jamaal Charles' 854 carries rank sixth in team history for most career-rushing attempts. He needs 78 more carries to pass RB Marcus Allen (932) for fifth.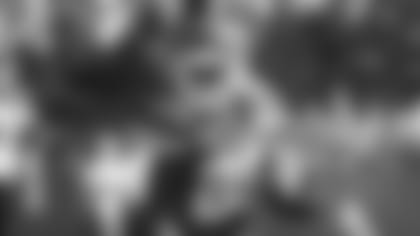 On October 6, 1978, Hannah H. Gray was inaugurated as the first female president of a major university in the United States. Also on this day, in 1979, Pope John Paul II was the first Pope to visit the White House.
October 6th is sportscaster Tony Dungy's (below) 58th birthday, along with actor Ioan Gruffudd (40) and actress Olivia Thirlby (27).