For the first time in his 10-year NFL career, former Kansas City Chiefs' running back Jamaal Charles, who signed with the Denver Broncos this past offseason after nine years with the Chiefs, will step on the field at Arrowhead Stadium in a different colored jersey.
"It'll be great and just to be back at the stadium where it started," Charles said earlier this week on a conference call with local Kansas City media. "It'll be a great feeling to come back home, but now being on the opposite of the ball, hearing the crowd noise is definitely going to be different for me."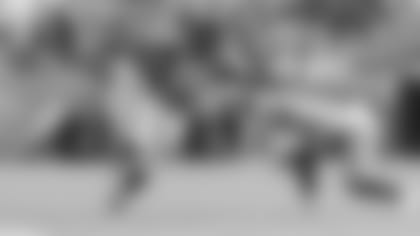 Charles, who was the team's third-round pick out of Texas in the 2008 NFL Draft, left Kansas City as the franchise's all-time leading rusher, accumulating 7,260 yards rushing on just 1,332 carries. He was a four-time Pro Bowler and two-time first-team All-Pro for the red and gold.
"I started there, I had some great years there, made the playoffs, made all pro bowls," Charles explained. "I'm thankful for all the fans who supported me, wore my jerseys, and everything I did in the community. Even though I didn't stay in Kansas City, everything started for me there.
"My kids were born there…my heart is always going to be with the Chiefs after I retire."
With the Broncos this year, Charles has carried the ball 42 times for 196 yards and a touchdown.
Charles, who said he still regularly speaks with guys on the team, including Charcandrick West, Eric Berry, Derrick Johnson, Justin Houston and Ron Parker, and "still wishes those guys the best," was asked about the early success of Chiefs' rookie running back Kareem Hunt, who leads the league with 717 yards rushing through seven games.
"He's just taking on the tradition," Charles explained of Hunt. "I took over for Larry Johnson, and Larry took over for Priest Holmes. I'm happy for the guy. I wish the guy breaks all my records. Records are meant to be broken.
"I know he's got a great running backs coach (in Eric Bieniemy] that'll coach him up and put him in the right position."
Charles explained what he sees in Hunt's game.
"He's strong running back, got good hands, good vision," Charles explained. "I like that he's an all-around running back, and that's what you need these days coming out of college. I know coach Andy Reid will put him in a great position to make plays."
Reid spoke about facing his former running back Monday night.
"I like Jamaal. I'm not telling you I am pulling for him on Monday," Reid laughed. "The other times I am pulling for him. He's a good kid and sure was a great player here."
While it may be weird for many to see Charles in a different jersey on Monday night, the fanfare will quickly wear off when the whistle blows as both teams are fighting for a win in a crucial divisional matchup.