He didn't look worried. Not even a little bit.
That may have been the biggest takeaway from the press conference with Kansas City Chiefs running back Jamaal Charles on Wednesday afternoon.
He answered many questions from local media about the struggles the Chiefs have had this year, and he did it honestly, directly and in a way that demonstrated a clear understanding of how to get things back on track.
He even gave an analogy of their approach to the season right now.
"It's like a storm," he explained. "It can get messy [if you leave it alone] or you can go ahead and clean it up yourself.
"Right now, we've just got to start rebuilding and be behind each other as a team."
Basically, Charles is saying you can concentrate on what's already happened or you can put your energy into getting things back to where they belong.
For the Chiefs, that simply starts with putting one foot in front of the other and moving forward.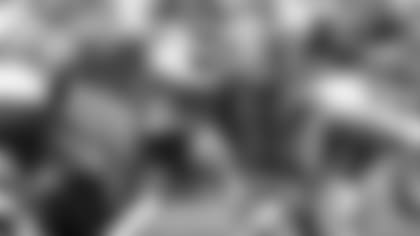 Throughout his eight-year career with the Chiefs, Charles knows a thing or two about that.
In order to accumulate the more than 9,500 total yards of offense Charles has produced in his record-breaking career, Charles has had to take some 25,000 steps forward, give or take a few.
Which means he's used to this, and it's why he's looked upon by his teammates on how to handle such situations.  
"A lot of the young guys look up to the veterans guys," Charles explained of leadership. "We think we're still one of the best teams in the league.
"We still have our confidence."
Even with that confidence, Charles understands that every game is important and that there's a sense of urgency to get back to winning football games sooner rather than later for the Chiefs.
"If we want to make a playoff run, I feel like we've got to win the second quarter of the season," he explained, "and that's basically what's right now.
"We've got to go out there and win."
Over the past two seasons, the Chiefs are 7-1 during this second quarter of the season.
As they prepare to take on the Chicago Bears (1-3) this weekend, who after dropping three straight to open the season are looking for back-to-back wins after defeating the Oakland Raiders last week on a game-winning field goal with just seconds remaining, Charles believes the level of competition they've faced so far this year will help them moving forward.
"We played three playoff teams from last year - pretty good teams that we needed to play," he explained of the Broncos, Packers and Bengals, who are a combined 12-0 right now. "Now we get to play against the teams that we should go out there and be competitive with as well.
"It's a long season, we've got 12 games left and we've just got to go out there and grind."
If Charles keeps up his current pace, he's on track to have one of the best seasons of his career.
Jamaal Charles' Career Numbers