It's not easy being a long snapper in the National Football League.
The game often rests – literally – in their hands, whether it be initiating a game-winning field goal or a critical punt late in the game. They're expected to make precise snaps, to block and, on punts, to cover downfield.
Though as much as they impact the game, their names rarely show up in the box score.
Chiefs' long snapper James Winchester did something about that in last Sunday's win over the Philadelphia Eagles.
With the Chiefs punting in the closing seconds of the first half, Winchester snapped, blocked and catapulted downfield. He shed a blocker before squaring up Eagles' return man Darren Sproles and, as the two made contact, the ball popped loose.
Chiefs' fullback Anthony Sherman fell on it, setting up a field goal to give Kansas City the lead right before halftime.
It was the first forced fumble of Winchester's career.
"To get a tackle and a forced fumble - that was pretty special," Winchester said. "I was really excited and had some adrenaline pumping, but I had to calm it down because we were in the red zone and I'd probably have to snap an extra point or field goal pretty soon."
It was Winchester's hustle that made the play.
"I try to be an athlete on every play and run down," Winchester said. "You just have to give it everything you've got and give 100 percent effort on each play. When you go hard, sometimes you make plays because you're there."
The elusive Sproles, a Pro Bowler in each of the past three seasons, had already made four would-be tacklers miss before running into Winchester.
"Sproles is an excellent returner, he doesn't make a lot of mistakes," said Special Teams Coordinator Dave Toub. "He broke four tackles and then James was in great position. He squared him up and got either his head or shoulder on the football and knocked it out. It was a huge play in that game to change momentum and get the turnover."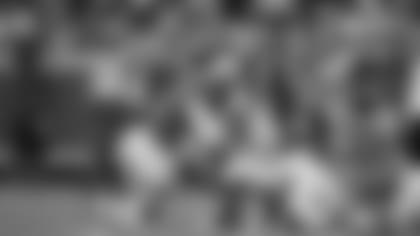 The play marked Sproles' first lost fumble on a return since 2013, and just the second forced fumble caused by a long snapper in the past four seasons.
As remarkable as that is, Winchester isn't an ordinary long snapper.
"On punt coverage, I'd say he's in the top three in the league," Toub said. "He can fly. He was a wide receiver in college – he runs like a 4.55 (40-yard dash). For a long snapper, that's rare, to have a guy that big, 240 pounds, that can run that fast. He actually beat a blocker on that play before he made the tackle."
Winchester was a backup wide receiver at the University of Oklahoma in addition to serving as long snapper for the Sooners. Coincidentally enough, he was signed by the Eagles out of college as an undrafted free agent before joining the Chiefs prior to the 2015 season.
He made his first entry into the stat sheet last season with a fumble recovery in Week 12, and can now add a forced fumble to the list.
Impressive as the play was, Winchester's teammates weren't surprised.
"You always have to give it to the snapper, he does everything upside down, which is funny in itself, but it was a great play by him and he's a great athlete, so I'm not surprised," said Chiefs' punter Dustin Colquitt. "He's done it a lot in practice and people are going to start covering him, no doubt."
The significance of the play took a while to set in for Winchester, who didn't reflect on the moment until after the Chiefs had won.
"I honestly didn't really think about it until after the game, but then I was like, 'Man, that was Darren Sproles,'" Winchester said. "That guy doesn't make many mistakes, so to make a play on him, it's special to me for sure."
"Any way I can help the team win, that's what I'm here for."