It's Michael Vick's turn. Even though it's probably too late to save the New York Jets' season.
Rex Ryan announced Monday that Vick will start at quarterback over Geno Smith in the Jets' road game against the Kansas City Chiefs on Sunday.
"I think this is the right decision at this time," Ryan said, adding that it isn't "any long-term deal or whatever."
The Jets are mired in a seven-game skid that has them at 1-7 after a 43-23 loss in which both Smith and Vick turned the ball over three times against the Buffalo Bills on Sunday.
"I think it's a great opportunity," the 34-year-old Vick said. "Any time you get named to be the starter, in any profession, in professional sports, it's a great thing. You have to relish it, but also at the same time take it extremely serious and understand what's at stake and what needs to be done."
Smith, in his second season, was benched in the first quarter Sunday after throwing interceptions on three consecutive possessions. Vick took over and provided a spark, leading the Jets to a touchdown on his first drive, but also committed three turnovers of his own.
"My focus is just on Kansas City and trying to find a way to get a win," Ryan said. "That's why this decision was made."
Vick was 18 of 36 for 153 yards against the Bills, and also ran for a team-leading 69 yards on eight carries. But he threw one interception -- and nearly had another that was ruled incomplete after being overturned by video review -- and lost two fumbles.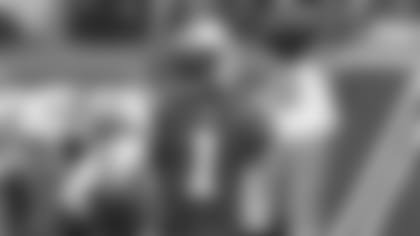 His first start with the Jets will come against Chiefs coach Andy Reid, who helped revive the quarterback's career in Philadelphia after he served nearly two years in prison for his role in a dogfighting ring. Vick called it "kind of ironic" and added that it isn't exactly what he wanted, but is happy to be starting -- regardless of the opponent.
"I love Andy Reid for the man that he is," Vick said. "As far as the football game, football is football. I just want to go out there and do what's best for the team and hopefully try to get a win."
Smith injured his right shoulder during the game when he made a touchdown-saving tackle on his final interception, but both he and Ryan said it isn't serious. Ryan did acknowledge Smith's shoulder isn't 100 percent, and Matt Simms could be activated from the practice squad if Smith isn't available.
"They said it was minor soreness," Smith said.
The Jets have been searching for a franchise-type quarterback since the days of Broadway Joe. Vick will become the 27th quarterback to start a game for New York since Joe Namath's last game with the team in 1976. A few have had some good moments -- Vinny Testaverde, Chad Pennington, Brett Favre and even Mark Sanchez -- but none was able to sustain any level of dominance or postseason success.
Smith was given every opportunity to prove he could be that type of player after being thrust into the job when Sanchez was lost for the year during the 2013 preseason. He finished his shaky rookie season with 12 touchdowns and 21 interceptions, but had a solid final month to give the Jets some hope.
New York signed Vick in the offseason to provide some competition for Smith, but it was clear early that it was the second-year quarterback's job all along. Still, Smith did little to reward the Jets' faith in him as he had seven touchdown passes and 10 interceptions in eight games.
"Have there been guys that took a step back and then took a leap forward? There have been guys like that," Ryan said. "Hopefully that's what happens to Geno, but I don't think anybody in this organization is looking at him differently right now."
Smith believes he "without a doubt" can still be a franchise quarterback.
The quarterbacks found out about the decision from Ryan after the team meeting Monday. Smith said he initially had no reaction when he was told, but added that he was frustrated and a little surprised to not be the starter this week. He also said he needed no explanation from the coach.
"That's something that you have to expect, especially with the way I performed in the previous game," Smith said. "It was definitely not (a performance) fitting of what I believe is the caliber of a starting quarterback. It's something that I've got to work on."