The 2013 NFL season is year number three for Kansas City Chiefs LB Justin Houston and it may definitely be a charm.
During his rookie year in 2011, Houston played in all 16 games, recording 56 tackles (46 solo and 10 assists), 5.5 sacks and four passes defended.
The former Georgia Bulldog, Houston improved his play in 2012 and had the stats to prove it. He ranked fourth on the team with 60 tackles (53-solo and seven assists), led the Chiefs with 10 sacks and recorded one safety, an interception and six passes defended, earning him a trip to the 2013 Pro Bowl.
Once the season was over, the 6'3", 258-lb linebacker knew it was time to get away from football to rejuvenate.
"I took some time to recover," Houston said. "(I) Let my body chill and enjoyed some time with my family and then I was back to work."
Success in the NFL doesn't come easy, which is why Houston literally means he got back to work, twice a day, improving his hands and overall quickness.
"One (workout) is dealing with strength and the other is dealing with abs, cardio and technique," Houston told me.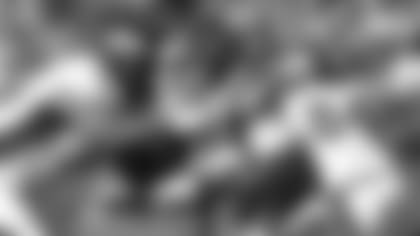 The discipline in the offseason has Houston motivated to accomplish bigger and better things in 2013, just like the rest of the team.
"I can see (that) everybody is hungry," Houston admitted. "I think everybody wishes we could fast forward this (offseason) part and get ready for the season. I'm pretty sure everybody is excited for training camp."
When the season starts, Houston will be joined by a former Georgia Bulldogs teammate, rookie Sanders Commings, who the Chiefs selected in the fifth round of the 2013 NFL Draft.
"I talked to him for a split second on Twitter," Houston said, "I congratulated him. I'm ready to work with him; he's a good player. We're going to teach him some things, so he can move forward and help us get better."
As far as what to expect from Commings, Houston's response was immediate.
"I think he can bring a lot to the team," Houston admitted. "In college, he played safety and corner, so I feel like they have the chance to play him in both roles here."
Chiefs fans now wait to see how both former Bulldogs will perform in 2013.