All D.J. Reed has done over the past two years for the Kansas State football team is make plays.
The two-time All-Big XII cornerback finished fifth in the nation with 16 passes defensed in 2016—his first year in Manhattan. He added three interceptions that year as well.
Over his two-year stint at K-State, Reed also averaged 32.2 yards per kick return and 14.9 yards per punt return. He was named a second-team All-American last year as a returner.
After deciding to forego his Senior year, Reed and more than 300 other NFL hopefuls spent the past week competing and being evaluated at the Scouting Combine in Indianapolis.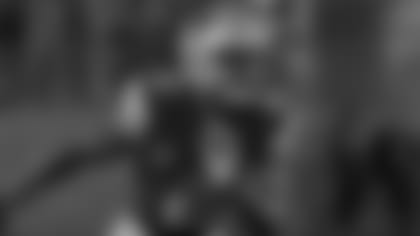 Heading into this week, Reed knew one of the biggest challenges he'd face is convincing teams that his height at 5-foot-9 wouldn't be an issue.
It's something he did hear this week from the teams he spoke with during the formal and informal interview process.
"They think I can play corner at the next level, and I know I can, but the only question I really hear is concern of my height," Reed explained of what NFL teams were asking him and telling him this week in Indy. "But I'm very athletic, and I feel like given the right opportunity that I can make that work and do it at a high level."
One thing people haven't questioned about Reed is his work ethic and drive to be great—that's been evident since he was a standout athlete at Independence High School in Bakersfield, California. He became the first player in school history to be named MVP of both his football and basketball teams.
"I'm a hard work dog," Reed added. "So, I'm going to come in and compete for every job they want me to play—whether it's nickel or corner, safety, kick returner or punt returner, whatever it is, I'm going to come in and compete.
"I feel like a lot of guys who get in the league are satisfied—I'm not going to be satisfied."
Reed, who began his college career at Fresno State before heading the community college route at Cerritos, where he helped his Falcons team to a National Division Northern Conference championship in 2015, credits K-State legendary coach Bill Snyder and the entire Wildcat program for the position he finds himself today.
"It definitely helped me become a better man," Reed explained of playing for the Wildcats. "As far as football, it helped me just because I feel like we work the hardest in the nation. We're just a head-down, grind team. From January to the end of the December, we're grinding all year long.
"Mentally, Coach Snyder gets you prepared for every game, so I feel like transitioning to the next level won't be as tough."
When asked about any particular games people should watch to get an idea of who he is as a player, Reed named a few, including his performances against Texas, West Virginia and Kansas, and a matchup against a quarterback who has been making plenty of headlines the last few months.
"If you watch the Oklahoma film, I pressed the whole game and Baker [Mayfield] didn't really throw it to my side at all," Reed noted. "If you watch we play off-man as well. I'm very sticky when I guard receivers and I feel like that separates me as well."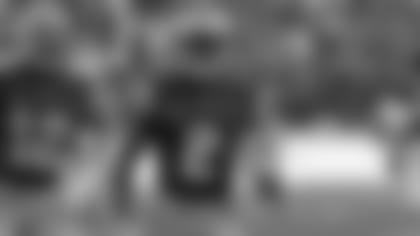 (Photo via K-State Athletics)
Reed said he's met with a number of teams this week in Indianapolis, including an informal interview with a couple of the Chiefs' assistant coaches.
"We were just talking and drawing up the plays, try to pick my mind to see if I knew football," he explained. "It was a good conversation. I definitely know my stuff."
Reed believes that playing in the pass-happy Big XII has set him up well to play at the next level.
"I just feel like playing defense in the Big 12 is tough, especially for a corner," he added. "There are only a few of us here. So, if you can do well in the Big 12 as a corner, I feel like you can play at any level because you're getting all types of offenses, electrifying receivers, and the ball thrown at you every week.
"If you guard your ground and lockdown, that shows a lot about you as a defender."
Reed did lockdown last season for K-State, allowing a quarterback rating when targeted of just 55.5, and didn't allow a single reception of longer than 30 yards all season.
One expert who has seen plenty of Reed and believes he'll transition well to the NFL level is CBS draft analyst Dane Brugler.
"Ball skills and speed, he's got them both," Brugler explained of Reed. "You feel comfortable leaving him alone on an island, he has those skills and that confidence. I think he's a third-round player, a guy you can bring in and play and the nickel and he can help you on special teams.
"I do not think the team that drafts him is going to regret it."
What does Reed want fans of the team that drafts him to know what they're getting in him?
"You're going to get a baller, you're going to get a guy who can make an impact on defense, and if I get the chance to return kicks, I'll definitely make an impact."
If his career at K-State is any indication, that's a pretty good bet.