Arizona's Carson Palmer was flawless in a brief appearance, Kansas City backup Chase Daniel threw for three touchdowns and the Chiefs beat the Cardinals 34-19 in the teams' preseason opener Saturday night.
Palmer, in his first game since tearing an ACL last Nov. 9, was 4 for 4 for 77 yards, directing a seven-play, 80-yard touchdown drive to start the game before sitting down for the night. Palmer threw over the middle to Andre Ellington on a 57-play to highlight the seven-play, 80-yard drive.
Arizona's Tyrann Mathieu intercepted Alex Smith's pass on the Chiefs' first possession to set up a field goal to put Arizona up 10-0. The Kansas City reserves scored the next 31 points.
Daniel was 17 for 29 for 189 yards in two quarters of play.
"It's great to be back and play on this grass again in front of our fans and in our stadium," Palmer said. "It's been a long time coming. It's been a lot of days since I saw this day in the future."
On the big play, Palmer found Ellington through a tight window. Ellington, who nursed a foot injury most of last season and has missed most of training camp with a hamstring injury, scored on a 2-yard riun on third-and-goal.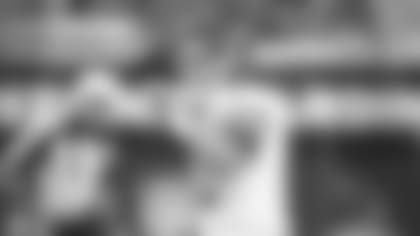 On Kansas City's first possession, Smith was under pressure when he threw the pass intended for open Jason Avant. The pass was well behind the intended receiver and Mathieu, who was slowed noticeably last season after coming off knee surgery, easily picked it off.
"Luckily, the quarterback threw the ball right to me so I didn't really have to break and get a good route to the receiver," Mathieu said. "He kind of just threw it right to me."
Smith completed 6 of 10 for 42 yards.
Daniel threw TD passes of 13 yards to Fred Williams, 14 to Frankie Hammond Jr. and 3 yards to Da'Ron Brown.
Chandler Catanzaro's 52-yard field goal try early in the fourth quarter was deflected by the outstretched hand of 6-foot-7 rookie David Irving.
Kansas City starting right guard Jeff Allen left the game early with a knee injury.
Arizona rookie Rodney Gunter tackled quarterback Aaron Murray from the blind side for a safety.
The Kansas City Chiefs take on the Arizona Cardinals in week one of the 2015 preseason.