While Chiefs fans are looking forward to seeing what their favorite team does this offseason, the changes throughout the past season, including the hiring of a new head coach, general manager, coaching staff and a significant amount of roster turnover, led to a remarkable turnaround. The Chiefs had 30 new players on their 53-man roster, including DE Mike DeVito, who was signed from the New York Jets as a free agent and recorded 28 tackles (18 solo) this season.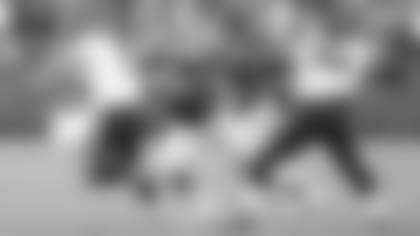 Having played with then Jets Assistant Head Coach/Linebackers Coach, Bob Sutton, in 2012, DeVito played a big role, not only on the field for the Chiefs, but also in the film room, helping his new teammates grasp Sutton's 3-4 scheme.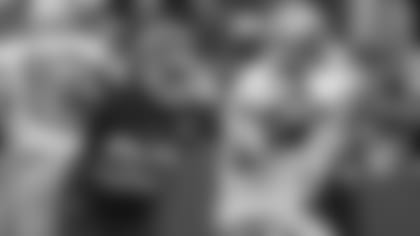 One of the teammates benefiting from DeVito and even more so from Chiefs defensive line coach Tommy Brasher was second-year DT Dontari Poe, who finished 2013 with 51 tackles (43 solo, 8 assists), five TFLs, seven pass rushes, four passes defensed and 4.5 sacks. Two of his QB takedowns came in the team's home-opener game against the Dallas Cowboys, sacking QB Tony Romo twice.
Poe's play in 2013 earned him his first Pro Bowl honor, which included a near pick-six against San Diego Chargers QB Philip Rivers.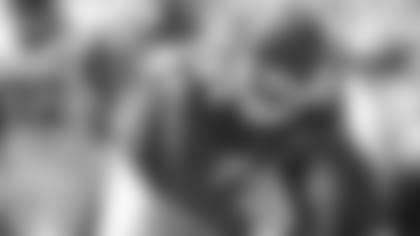 DE Tyson Jackson played in 15 games (nine starts) at left defensive end, recording 33 tackles (24 solo), including three for loss, four sacks (-20.0 yards), three passes defensed and three QB pressures. Jackson made his presence felt as early as Week 1 in Jacksonville, finishing the team win with two tackles, one sack, one TFL and one QB hurry.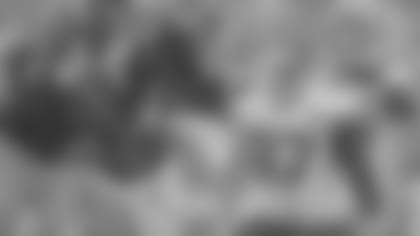 DE Allen Bailey finished 2013 with 30 tackles (25 solo, 5 assists) and one sack, one TFL, two passes defensed and two QB pressures. He played on defense and special teams in 15 games (three starts) and was inactive in one game. Bailey played in the team's Wild Card matchup against the Colts, recording one pass defensed.
DE Mike Catapano was the Chiefs seventh-round draft pick (Princeton) and played in 15 games for the team this season. He had four tackles (three solo) and recorded one sack vs. Oakland (10/13).
DT Jaye Howard was part of the waiver-claim class, signed to the Chiefs by GM John Dorsey and company on Sept. 1, 2013. Howard played in three contests (making his first-career start at San Diego in Week 17), finishing the regular season with six tackles (five solo). Howard was inactive in 13 contests, but appeared in the Chiefs Wild Card matchup against the Indianapolis Colts on Jan. 4, 2014, recording two solo tackles.
DT Jerrell Powe played in two games (one start) and recorded two tackles (one solo), including one for loss, one sack and one quarterback pressure.
Kansas City tied for fourth overall in scoring differential in 2013. The Chiefs outscored their opponents 430-305, a differential of 125 and were fifth in total points allowed (19.1 avg.) in the NFL, helped by the team's defensive line, which hopes to post even bigger and better numbers in 2014.