GAMETIME: 12:00 p.m. CST on Sunday, November 9LOCATION: Ralph Wilson Stadium, Orchard Park, N.Y.HOW TO WATCH: CBS (KCTV5 Local)
HOW TO LISTEN: 101.1 The Fox | NFL Network Game Rewind (Monday, 8:00 p.m. CST)GAMCENTER/LIVEBLOG:KCChiefs.com
Two of the quietest teams in the AFC's playoff picture will face a fork in the road Sunday as the Kansas City Chiefs (5-3) square off against the Buffalo Bills (5-3).
The Bills, who are already without starting running back C.J. Spiller due to a broken collarbone, could be without two of their other top players in wide receiver Sammy Watkins (No. 14) and running back Fred Jackson (No. 22), who have both been officially listed as questionable.
Watkins, a rookie out of Clemson, was drafted fourth overall by the Bills this season and is perhaps their best player. Watkins leads the team in receptions, yards receiving and receiving touchdowns. But after suffering a groin injury Wednesday, he did not practice with the Bills on Thursday or Friday.
Jackson suffered a groin injury against the Minnesota Vikings in Week 7 and missed the Bills' game in Week 8 against the Jets before their bye in Week 9. Jackson showed promise this week by participating in practice, though limitedly, in all three days for the Bills.
Those injuries mean that other Bills will need to step up in their absence.
The Chiefs are playing some of the best defensive football in the NFL and that could make matters worse for veteran quarterback Kyle Orton (No. 18), who replaced E.J. Manuel (No. 3) as the team's starter against the Detroit Lions in Week 5. Orton, who actually played with the Chiefs during the 2011 season, is having one of the better years of his nine-year NFL career.
In four games started, he has completed 95 of 141 passes for 1,128 yards, nine touchdowns and just three interceptions. Orton will have to play one of his better games to defeat the Chiefs defense.
Through the air, the Chiefs allow only 199 yards per game, the best mark in the league, and against the ground attack, the Chiefs are the only team in the NFL that has yet to allow a rushing touchdown.
Part of the reason for that success has been Chiefs defensive coordinator Bob Sutton's ability and willingness to get all of his players involved.
"In Bob's defense, everybody's going to play," Chiefs head coach Andy Reid said this week. "That's just how it rolls. You saw all the different personnel groups he's got going in and how he handles that. Everybody plays."
The Chiefs welcomed back one of the defense's staples in safety Eric Berry last week. Berry, who hadn't played in a game since Week 2 against the Broncos, looked to not miss a beat, playing in 51 of the team's 69 snaps, or 74 percent of the plays.
"One of the things I always say about Justin [that] kind of goes unnoticed—he does a lot of things for us in coverage," Sutton said. "He plays a lot of places on our defense. I think he's got a sack from three different places. I think he's playing really, really well, and I'm really happy for him because he's worked really hard to get to that position."
Across the field, the Bills defense is also playing some outstanding football. In what has as of late turned into a theme for the Chiefs, they will once again go up against one of the best defensive line and linebacker units in the league when they face the Bills.
Eleven different Bills combine for a league-leading 28 sacks, including seven from third-year defensive tackle Marcell Dareus (No. 99) and six from eight-year veteran defensive end Mario Williams (No. 94).
"By far, this will be the best front we've faced up to date," offensive coordinator Doug Pederson said of the Bills this week. "They've got some guys that can rush the passer. They are very active with the linebacker crew.
"It's another challenge for our guys up front. They welcome the opportunity, and we're going up to their place. These guys are playing well and we've just got to handle our business."
More than just an ability to sack, the Bills are in a three-way tie for second in the league in takeaways (18), something Chiefs quarterback Alex Smith will need to be wary of if the Chiefs are to leave Buffalo with a victory.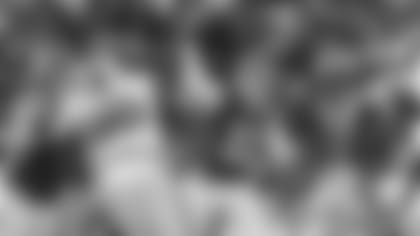 "Really, a credit to those guys. I think the thing that really jumps out is just the pride they have as a group," Smith said of the offensive line this week. "They're detailed, they're tough and it's a good, good group. I think they do set the tone for us."
A player to watch for the Bills when the Chiefs are on offense is cornerback Leodis McKelvin (No. 21), who has intercepted a team-high four passes this season. McKelvin, who is extremely athletic, is also the team's punt returner, one that could change the game quickly if he is not properly managed.
As with seemingly every game this season, the playmakers to watch for the Chiefs are veteran running back Jamaal Charles and second-year tight end Travis Kelce. Charles leads the team in total touchdowns with seven and last week, Kelce caught his fourth touchdown of the season in the Chiefs' win against the Jets.
Making up sixth to ninth in the AFC playoff standings, four teams currently sit at 5-3, including the Chiefs and the Bills.
Over the years, many have called the NFL a "game of inches" and that could not reign more true this week.
For one team, a win will mean a giant step forward into the playoff picture and even the hunt for a first-round bye, while the other will find itself on the outside looking in.
A look at the starting roster for the Buffalo Bills