Every player, no matter their achievements on the field, had to start somewhere.
For Kansas City Chiefs cornerback Kenneth Acker and Miami Dolphins defensive tackle Ndamukong Suh, those humble beginnings just so happened to be in the same place.
Long before Suh was a Heisman Trophy finalist, the No. 2 overall pick in the NFL Draft and a five-time Pro Bowler, he was just a senior at Grant High School in Portland, Oregon.
And though he was a handful of years younger, Acker remembers it well.
"My dad was the coach, so I was the ball boy when he was coming up," Acker said. "He was a man amongst boys out there."
Suh was indeed one of the best young players in the nation at the time, garnering offers from some of the top programs across the country. The 6-foot-4, 275-pound defensive tackle eventually decided on the University of Nebraska, going on to establish himself as one of the greatest players in Cornhuskers' history.  
It's a legacy that inspired Acker to achieve heights of his own.
"I feel like he helped me coming up more than anything," Acker explained. "When I got midway through high school and he left for Nebraska, it showed me that somebody from my school could make it and that I could do it, too."
Acker did just that, playing four years at Southern Methodist University before being drafted by the San Francisco 49ers in the sixth round in 2014. He joined the Chiefs a year later.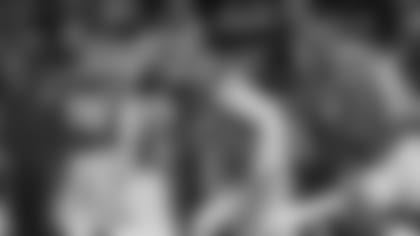 Suh was there every step along the way.
"He was always helping me out and asking me what I needed," Acker said. "When I got to the league, I trained with him a couple days in Portland and we linked up and did some stuff together. It was just good to see this guy, who is on the biggest stage you can be on, and he still treats me like I'm just a regular guy."
It's a relationship that even stemmed beyond just football.
"Our families are pretty close," Acker said. "His mom and my mom were in book groups together and stuff like that. They talk a lot."
And for the first time in over a decade, the two players will share the field this Sunday at Arrowhead Stadium.
"It's the first time that we'll both be playing on the same field in the NFL," Acker said. "It'll be pretty cool."
There will be plenty on the line, too, as Acker and the Chiefs try to wrap up a second-straight AFC West title with a victory.