After going through individual drills for the first two practices of Kansas City Chiefs mandatory minicamp on Tuesday and Wednesday, running back Jamaal Charles didn't practice at all on Thursday. When speaking with the media on Thursday following the final offseason workout until the team reports to training camp at the end of July, coach Andy Reid said that was the plan for Charles all along.
"We gave him the two days and then we backed off," Reid said. "We thought that was a positive thing."
Reid wouldn't commit to whether or not the franchise's all-time leading rusher would be a full participant when the team reports to Missouri Western State University in a few weeks for camp.
"You don't want to take any steps back," Reid said of Charles' rehab. "He had two good days here, and we'll see how he does at camp. We're optimistic by the two days, but let's not rush him. We know what he's all about and let's get him back to where he feels good.
"Whatever timetable that is or how much he practices there, we'll see how it goes day by day."
It has been eight months since Charles injured his knee in the Week 5 game against the Chicago Bears, and the fact that he was out on the field doing individual drills during minicamp is a positive step forward for one of the NFL's elite offensive players when he's healthy.
On the other side of the ball, linebacker Justin Houston didn't participate during any of the offseason practices. He had surgery on his injured knee in February.
"I don't know how much he's going to do at (training) camp," Reid said of Houston. "But listen, he's where he needs to be right now. He's a hard worker, so he's bound and determined to get back. I've told you before, when you're around him, you have this optimism.
"I feel optimistic that he's going to be back in a short period of time, but in reality, it's going to take a little bit – and that's OK. You've got other guys that will step in, step up for him at that spot until he gets back. The important thing is he gets back, that he's healthy and that you don't rush it and do something foolish."
At this point, there's no telling when Houston will be back on the field.
"There's no timetable," Reid added. "It's just when he's right, he's right, and ready to roll."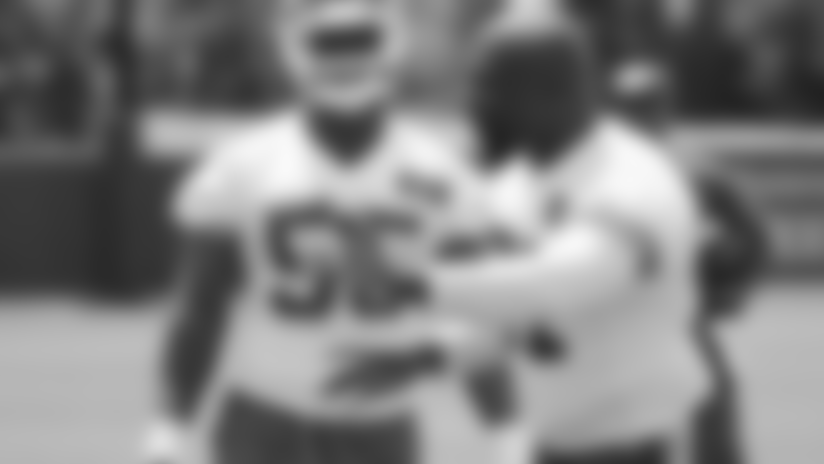 Houston's fellow pass rushing mate, veteran Tamba Hali, also had offseason knee surgery and didn't participate during any of the offseason workouts, although he was around and helped some of his teammates off to the side during OTAs.
"The thing you always have to do with Tamba is back him down a little bit," Reid explained. "He's full throttle. We'll see how he feels once we get to camp. He didn't do anything during minicamp, although not too many of us in this room could probably hang with him with his workouts because he's unbelievable in that way.
"We'll see how he does once we get up there."