The conversation about the Kansas City Chiefs' 2018 season—obviously—starts with quarterback Patrick Mahomes , who the Chiefs traded up 17 spots in the first round with the Buffalo Bills for last year (from No. 27 to No. 10). 
Mahomes was promoted to QB1 this offseason after the Chiefs made the trade that sent Alex Smith to the Washington Redskins for cornerback Kendall Fuller and a third-round pick (No. 76 overall).
"He's got some natural leadership ability which, which we got to see a little bit last year," Chiefs' coach Andy Reid explained of Mahomes, who got the start (and win) on the road in Denver in Week 17. "It was one of the things that attracted us to him."
In that game against the Broncos, Mahomes finished 22 of 35 (62.9 percent) for 284 yards and an interception. 
After initially thinking his day was done as the Chiefs were holding a lead in the fourth quarter, Mahomes was asked to step back in when the game got close. That's when he engineered a game-winning two-minute drive to finish off an impressive NFL debut—setting off the optimism bells for the future from Chiefs Kingdom.
"He's very competitive," Reid added of his young signal-caller. "He's not afraid to put a little pressure on you to make sure you do your job. He's doing the same thing to himself, every day. If you're playing with him, you better be ready to go."
But outside of Mahomes, the Chiefs will also rely on a few of the other picks from last year to help carry the torch in 2018—like the NFL's reigning rushing leader in Kareem Hunt, who was taken in the third round (No. 86 overall) out of Toledo. 
Hunt carried the ball 272 times for 1,327 yards (4.9 ypc) with eight touchdowns last year—adding 455 yards and three touchdowns receiving as well.
As first reported by Blair Kerkhoff of the Kansas City Star, Hunt kept the streak going of the Chiefs having a rookie in the Pro Bowl for the third consecutive year (Marcus Peters, Tyreek Hill)—earning the postseason trip after a standout rookie season in which he set multiple franchise records.
But the player who sandwiched the Mahomes and Hunt picks' last year—Tanoh Kpassagnon (No. 59 overall), should also see an increased role in 2018. 
And looking back, Mahomes wasn't the only player who showed something special in Week 17 against the Broncos either. 
Kpassagnon, who is as physically gifted as anyone in the league at a solid 6-feet-7 and 280 pounds, showed out too. He finished that game against the Broncos—his only start of the year—with two quarterback sacks and three tackles for loss. 
It was a sign of development from a player who took some time getting used to the level of the play in the NFL.
"They used him all over the field," Veach explained of Kpassagnon's time at Villanova, where he had 11 sacks and 21.5 tackles for loss in his final collegiate season. "We brought him here and asked him to do a bunch of different things. So, for a while he's playing 3-4 outside linebacker, then we kicked him inside to big end. I think having a year with our strength and conditioning program and having a year with our staff and terminology, and just getting used to the speed of the NFL, will help. 
"It's one thing to go from Alabama to the NFL, or LSU to the NFL, but when you go from Villanova to the NFL, it's obviously a little bit different. He has done a great job in the offseason program. He has been busting his tail, and I think he will be a guy that really helps us out."
Outside of those three players, the Chiefs should also see production out of the other three players in the 2017 class in receiver Jehu Chesson (No. 139 overall), linebacker Ukeme Eligwe (No. 183 overall), and safety Leon McQuay III (No. 218 overall).
Here's a look at the entire Chiefs' 2017 Draft Class: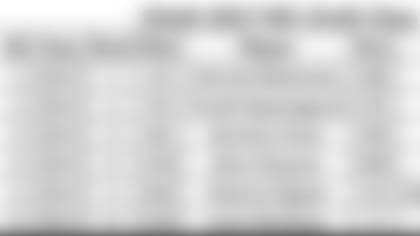 Led by Mahomes, the level of success for the Chiefs' 2018 campaign will be heavily dependent upon the individual success and play of its 2017 draft class.