The Kansas City Chiefs fell short of their ultimate goal in 2017, but there were still plenty of moments throughout the course of the season that we won't soon forget.
We're going to take a closer look at those moments over the next several weeks, from the standout individual performances to the game-changing plays.
In this edition, we're looking back at the most memorable celebrations from the 2017 season.
The NFL relaxed its rules on celebrations prior to the season and the Chiefs took advantage, as several players jumped at the opportunity to show a little personality in the end zone.
In one of the most creative celebrations from any team this season, the Chiefs engaged in an impromptu "potato sack race" in the end zone following a touchdown against the Dallas Cowboys in Week 9.
Wide receivers Demarcus Robinson and Tyreek Hill both pretended to fall down during the race while tight end Travis Kelce came out on top. Not pictured in the video was quarterback Alex Smith, who also participated in the fun.
Nearly half of the offense joined together to celebrate a touchdown against the Los Angeles Chargers in Week 15 with a reenactment of a racing pit stop. Wide receivers Albert Wilson, De'Anthony Thomas and Demarcus Robinson, fullback Anthony Sherman, running back Akeem Hunt and offensive lineman Eric Fisher all served as members of the pit crew while Tyreek Hill fittingly acted as the "car."
Hill raced past All-Pro cornerback Casey Hayward for the 64-yard score, after all.
3. Harrison Butker's Game Winner While the previous two celebrations earned points for their creativity, the pure excitement from kicker Harrison Butker following his game-winning kick in Week 4 against Washington was just as special.

The rookie placekicker signed with Kansas City just a few days prior, setting up his professional debut on Monday Night Football at Arrowhead Stadium. He went on to miss his first-career kick, but in storybook fashion, he had a chance to put the Chiefs in front with just seconds remaining in the game.
The rest is history, as the kick sailed through the uprights and euphoria ensued.
4. Kareem Hunt Takes a Snooze in the End Zone Rookie tailback Kareem Hunt took the league by storm in 2017, amassing the most scrimmage yards (246) ever by a rookie in a professional debut along with three touchdowns in Week 1 against New England. He tallied 109 yards of offense and two touchdowns a week later, pretending to go to sleep with the ball as a pillow following one of his scores.

"Stop sleeping on me," Hunt said after the game. "That's what I want to let everybody know."
A handful of awards and a rushing title later, Hunt has everyone's attention.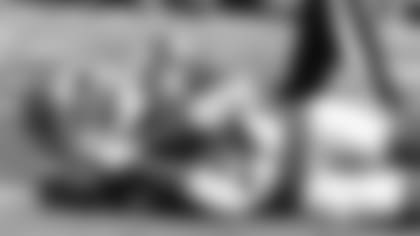 5. Nobody Can Dance Quite Like Travis Kelce A discussion on celebrations wouldn't be complete without (again) mentioning Kelce, who caught a career-high eight touchdowns in 2017.

In addition to winning the "Potato Sack Race," Kelce seemed to debut a different celebration – most often a dance – every time he found the end zone.
That variety was on full display in Week 8 against Denver.