That's the way Kansas City Chiefs head coach Andy Reid explained how his defense continues to make game-changing plays in leading his group to their eighth consecutive victory on Sunday against the Baltimore Ravens with their 34-14 win.
The Chiefs came into Sunday's matchup with the second-best turnover differential in the NFL at plus-12, and while quarterback Alex Smith and the offense have gotten plenty of publicity about their ability to protect the football, the defense continues to find ways to take it away.
On Sunday, the Chiefs forced 3 turnovers off a Ravens offense that had turned it over 23 times coming into the game, which ranked among the most in the NFL.
It was veteran safety Tyvon Branch picking up a fumble forced by linebacker Derrick Johnson and returning it 73 yards late in the first quarter that started the takeaway party for the Chiefs defense, which had 4 defensive touchdowns on the season coming into Sunday's game.
They would add to that total before the day was over.
"It's always the second or third guy," Derrick Johnson explained of forcing the fumble. "I was able to give [the running back] a good shot and the ball jarred out. I didn't even know where it was—Tyvon [Branch] just picked it up and by the time I saw it, he was halfway down the field."
Branch had begun the play as the deep safety, lining up more than 15 yards deep in a single-high look. Once Ravens running back Javorious Allen took the handoff off left tackle and ran for a few yards, he was stood up and Johnson was able to come in and knock the ball loose.
Johnson was untouched before initiating contact with Allen because defensive lineman Allen Bailey ate up blockers and didn't allow the right tackle to get to Johnson at the second level.
Safety Daniel Sorensen (208 pounds), who was lined up in the box and was outweighed by more than 100 pounds as he was engaged with center Ryan Jensen (310 pounds), ultimately got in the mix when Johnson stripped the ball as well.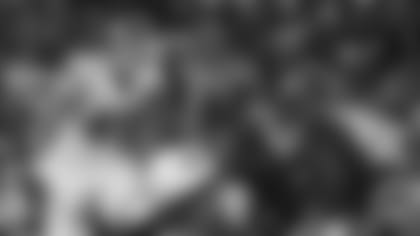 Johnson finished the game with a game-high 12 tackles.
Branch seemed to be the only one who initially saw that the ball had come loose, and because he was already hustling downhill to come and help stop forward progress, once he saw the ball on the ground, he picked it up and there was no catching him.
It was Branch's second defensive touchdown of the season after a pick-six two weeks ago against the Oakland Raiders.
"We have some great pieces here," Branch said after the game. "We have a great mixture of savvy veterans and young up-and-coming stars in this league. I'm just glad I'm a piece of this puzzle."
One of those bright up-and-comers is rookie first-round pick Marcus Peters, who despite already leading all NFL rookies with 5 interceptions coming into Sunday's game, decided to create a little more of a gap between him and everyone else by making a couple of key plays against the Ravens.
With the Chiefs holding a 27-14 lead midway through the fourth quarter, the Ravens were driving deep into Chiefs territory and looking to make it a one-possession game.
The intended target slipped and fell as he reached the top of his route, and as Peters broke downhill in off-coverage, he was able to step in front of the player lying on the ground and race 90 yards the other way for his second pick-six of the season.
Upon reaching the end zone, Peters paid homage to one of the greatest linebackers to every step foot on a NFL field and one whose pregame celebration is synonymous with M&T Bank Stadium in Baltimore.
"Playing in Ray Lewis' house – he was here for a long time and he did great things, so that's an honor and a salute to him," Peters explained of his celebration. "I knew if I got a pick I was going to do it regardless, it just helps that it was a pick-six."
Peters finished the day honoring himself with another standout performance, one that will be added to the résumé that's looking very much like one you'd see from the NFL's Defensive Rookie of the Year.
His 4 passes defensed on Sunday give him a total of 23 for the season, which is already a franchise record for a rookie, but he's now just sitting 3 shy of breaking the overall record for passes defensed by a player in a single season in franchise history, which is currently held by Brandon Carr (25, 2010).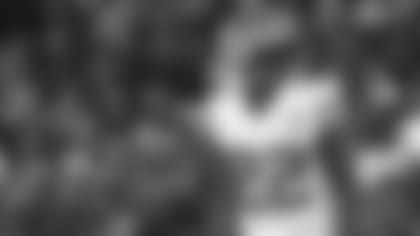 "It's not fair, but he's not a rookie out there," Johnson explained of Peters. "His standard is very high; he set that precedent early in the year. We expect him to make plays and he's out there making them every week.
"I'm glad he's on my team."
Peters added another interception late in the fourth quarter, giving him 7 total for the season. That's good enough to tie him for second-most in the NFL.
It's been a season for Peters that one can say has led to the transformation of the Chiefs defense, which after having just 6 total interceptions all of last season, has 6 defensive touchdowns (4 INT, 2 fumble) this year, not to mention 20 interceptions.
"[Marcus Peters] never thinks he's out of the play and he's going to challenge people around him," Chiefs coach Andy Reid said after the game. "He's not afraid to do that. He gets mad at himself when he doesn't make a play or somebody makes one on him, but he fixes it.
"He's not one where he gets mad and completely loses his focus. He gets mad and comes back and makes a better play. The players have confidence in him and they know he's going to bring it every snap. They trust him out there."
The passion Peters demonstrates on the field, even for a rookie, has been contagious around this team throughout this eight-game winning streak.
"His attitude seems to have spread throughout the team," quarterback Alex Smith noted of Peters. "It's very rare for a young guy to have such a great attitude that it rubs off on others."
Photos from Chiefs Week 15 matchup against the Ravens.