Just days removed from Sunday's home victory against the New York Giants, the Kansas City Chiefs returned to the practice fields on Wednesday, focused on their opponent in Week 5, the 3-1 Tennessee Titans.
Following a morning walkthrough, Chiefs coach Andy Reid walked off the field to meet with the media, sharing an update on team injuries, announcing that Chiefs WR Dexter McCluster was named the AFC Special Teams Player of the Week and, via a conference call with the Tennessee media, emphasizing why he doesn't waste his time thinking about win-loss records.
"I don't go there," coach Reid said. "You can't go there, when you're in this league. You can't do that, particularly when you're playing a good football team. They don't really care. The Titans aren't sitting there, caring about your record. They want to whip your tail; so, you get yourself ready to play a good football team."
As for McCluster's performance on Sunday, coach Reid spoke to the 89-yard punt return by Dex, which gave the Chiefs momentum, leading to the home win.
"Well, that was a pretty good one," coach Reid said. "He made a whole lot of folks miss and it ranks up there with some of the better ones. He had to actually make more people miss to get to that area; this one was very special, especially at that time in the game, when things were so close. We needed a little shot in the arm right there and he was able to give it to us."
Prior to Wednesday's practice, McCluster's locker was surrounded by reporters, who asked him about the highlight return.
"I watched it probably 500 times already," McCluster said. "I laughed, because I didn't remember that spin move, but obviously it worked. I had some great blocking and some great individual effort and got in the end zone."
On the season, McCluster has 11 receptions for 106 yards, to go along with one kick return and 16 punt returns, including the 89-yard jaw-dropping score from Sunday.
Chiefs QB Alex Smith also had his locker surrounded by reporters Wednesday, as he addressed questions about facing a tough Titans defense and whether or not the team fears possible complacency, after its 4-0 start.
"I don't think that's an issue in this locker room or in this building," Smith said. "The guys really haven't (let it go to their heads) here and the coaching staff; I think all the success has done in these last few weeks is confirm the way we do things. For us, that's just to continue to stay shortsighted. The focus right now is on Wednesday and let's take advantage of today and preparing for Tennessee and really for this week. We're not getting ahead of ourselves."
One of Smith's many go-to targets on Sunday was Chiefs TE Sean McGrath, who had five catches and one score on Sunday. McGrath also addressed the reasons his team is focused on Week 5, instead of an undefeated record.
"You have to keep it in perspective," McGrath said. "Another acronym for the NFL is 'Not For Long'; you're only renting your locker in this league. You come to work every single day grinding and you want to be as prepared as you can for when you step on the field Sunday."
New to Chiefs practice Wednesday was offensive guard Chandler Burden, who was signed to the club's practice squad roster. It didn't take Chandler long to develop a quick first impression of his new team.
"It seems like a close locker room," Burden said. "Everyone has been really welcoming and you don't really get that everywhere; so, it's always a good thing and helps team chemistry."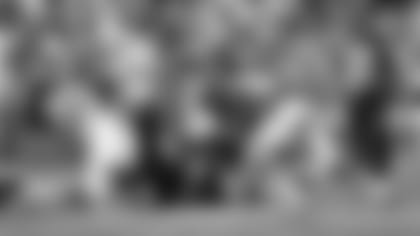 On the defensive side of the ball, the team's tackle leader (30) in 2013, Pro Bowl LB Derrick Johnson echoed Alex Smith's thoughts about the Chiefs staying focused.
"We're a very humble group," Johnson said. "We're hard-nosed and we don't take anything for granted, because we had some bad times here; we're handling it well and I hope we can continue. That's what we strive to do every week, not to be up and down."
The Chiefs will continue improving during practice on Thursday, one day closer to Sunday's matchup with the Titans.
Also on Thursday, we'll hear from the Chiefs coordinators, OC Doug Pederson, DC Bob Sutton and special teams coordinator Dave Toub.