The Chiefs Community Caring team, including Chiefs WR Dexter McCluster put smiles on the faces of children receiving treatment for various health issues at Children's Mercy Hospital.
McCluster, who has a huge heart and is always willing to reach out to the community, visited the hospital on Tuesday, flashing his trademarked smile and up-beat attitude to help cheer up several young Chiefs fans.
"Unfortunately, we hear about so many kids throughout the Chiefs Kingdom that are battling a multitude of ailments," Chuck Castellano, Chiefs Community Relations Manager explained. "This was an opportunity to impact the community and a chance to help make someone's day."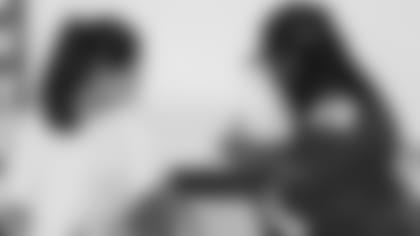 One of the patients the Chiefs visited was Nick, a young man, who has been in the hospital for three weeks.
"It's was an awesome experience to have Dexter and the Chiefs come out here," Mike LeGrande, Nick's father noted. "We look for anything to help raise Nick's spirits and this was incredible. We couldn't get Nick out of his bed for anything and yet today, Dexter helped get Nick out of his bed and lifted his spirits."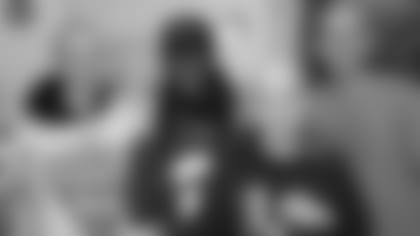 The Kansas City Chiefs and the entire Hunt family have made corporate citizenship and charitable giving in the community a priority for the organization. Every Tuesday, the Chiefs Community Caring Team makes visits throughout the community to local schools, hospitals or hosts Play 60 events.
"It's always fun to meet kids in the community," McCluster commented. "I have children of my own, so it's special to me to see these kids smile and know that I helped brighten their day."
The patients that McCluster, and other members of the Chiefs Community Caring Team, visited were thrilled to have the Chiefs come by to meet them, sign autographs and take photos.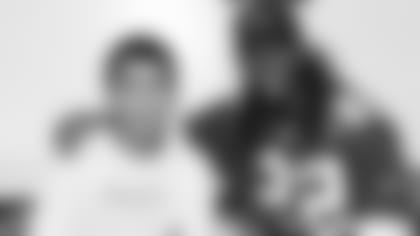 "This is huge for these kids, a lot of them hadn't been out of their rooms much and have been kind of down from being in the hospital, but today, to see them light up when they saw Dexter was amazing," Missy Stover, Volunteer and Therapeutic Programs Supervisor said.
McCluster was flattered that this simple gesture helped lift the children's spirits.
"I just see myself as Dexter McCluster, but they see me as Dexter McCluster the Chiefs football player," McCluster noted. "It brings a smile to my face to know that I can help in this small way."