The Chiefs Digital Media Department is expanding quickly, just this week BJ Kissel was added to our team as a Chiefs Reporter. He will be providing Chiefs fans with daily updates, practice reports, game analysis and keeping the fans informed of everything happening at One Arrowhead Drive.
But we're getting ahead of ourselves, let me introduce you to BJ.
BJ grew up in Stilwell, Kansas, just south of Overland Park, and graduated from Blue Valley High School. He initially went to the University of Central Missouri on a baseball scholarship. After redshirting one season, he was a member of the Mules 2003 National Championship team.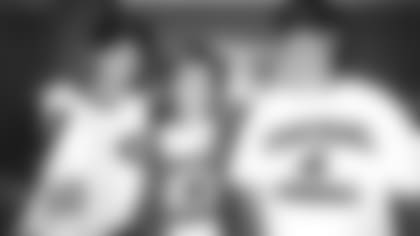 He then followed his coach to Kansas State University, where he pitched for three years. He met his wife in Manhattan and the two are huge Chiefs fans. BJ grew up with a passion for the Chiefs and has fond memories of Arrowhead Stadium. We are happy to have him on board and excited that he is a part of the Chiefs organization.
I recently sat down with BJ to help the fans get to know him a little better.
Rachel: Talk about your career path that led you to this job.
BJ:I didn't then take the traditional media path to get to this position. I spent more than four years writing at ArrowheadPride.com, a Kansas City Chiefs community through SB Nation, which was something I did on the side for fun because I loved to write and I've been a Chiefs fan since the day I was born. The platform it gave me and the feedback I was getting from the community was great and it made me want to pursue writing on a larger scale.
Bleacher Report then approached me at the Senior Bowl two years ago. They offered me a position as a National Featured columnist, which meant more resources and a bigger platform. I wrote all kinds of pieces for them from analysis and breakdowns to player profiles—they truly helped me become a better writer.
For the last year, I also worked as a Production Coordinator for Niles Media Group. I handled the coordination and logistics of all their remote live sports TV productions. We worked with ESPN, Fox, CBS and even local channels with dozens of clients, including the Missouri Valley, Mountain West, Jacksonville Jaguars, KSMO, Cox and CST. I loved learning how that side of the sports media business worked and everything that goes into televising and producing a live sports event.
I worked events as well and was the MIAA TV Network's sideline reporter last season, where I got to see the best Division II Football Conference in the country up close and personal.
R: Did you grow up following the Chiefs?
B:My family had season tickets when I was a kid, so I grew up going to all the Chiefs games with my dad. Some of the best memories I have with him were driving to Arrowhead every Sunday and walking up the tunnels and out to our seats in section 338. It still gives me chills walking into Arrowhead.
Plus, I still have my zubaz hat signed by Marty Schottenheimer!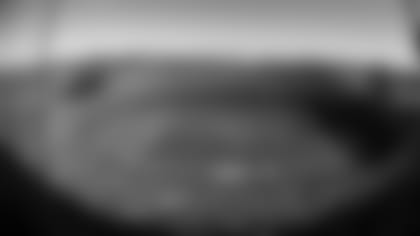 R: What is your fondest Chiefs memory?
B:I'll always remember the sounds of Tony DiPardo and the TD Pack Band echoing throughout the stadium, the noise generated on 3rd down and I loved seeing the stealth flyby during every National Anthem.
Derrick Thomas bringing down John Elway was always a good one too, but there are so many of those it's hard to just pick one.
R: What are you most looking forward to with this job?
B:Everything. I was writing about the Chiefs long before it was ever a job for me so getting to do it for a living really won't feel like work.
R: Describe your writing style and philosophy.
B: I try and write something that's easy for everyone to read and understand. The target audience for me was always everyone, with the breakdowns and any kind of analysis I was doing, writing something die-hard fans could take something away from, as well as my wife, always became the goal. That's much easier said than done.
I don't take myself too seriously and I think that comes across in my writing as well. Everyone has an opinion and can see different things when watching the same game or play, so I just always had fun facilitating those conversations.
R: What personal achievement are you most proud of?
B:The most obvious one is getting married to my wife, Megan, whom I met at K-State when she was on the volleyball team.
I was also fortunate enough to play college baseball and being a part of the 2003 National Championship baseball team at the University of Central Missouri is something I'll always be proud of. I was a pitcher for the Mules for just one season after redshirting my first year in 2001-2002, and when Coach Brad Hill was offered the job at Kansas State, I transferred up there with him and played for three years.
Going from a National Championship program to one that was rebuilding was tough at first, but I'm also proud of where the K-State program has come from after never having been to the NCAA tournament in the programs history, and now they've gone four of the last six years. I'm happy to say I was there for the beginning of the turnaround.
R: What is your favorite BBQ place in Kansas City?
B:Most dangerous question in Kansas City! If I'm going to sit down and eat at the restaurant then it's Jack Stack, takeout is Oklahoma Joe's and most underrated, for me, is Hayward's.