The Kansas City Chiefs have done a phenomenal job over the past few years adding talent to the roster via undrafted free agents.
Every year, after the last pick of the NFL Draft is made, there are more than 500 college free agents who went undrafted that will sign contracts with NFL teams, and all of it happens within just a few hours.
It's a crazy time and these players oftentimes have their pick of where they want to go with multiple teams vying for their services, and much of their decision-making process is predicated upon information given to them by their agents, who have done their due-diligence of their guys' best chance to make a 53-man roster.
Over the years, the Chiefs have signed guys during this time like tight end Demetrius Harris (2013), safety Daniel Sorensen (2014), running back Charcandrick West (2014), kicker Cairo Santos (2014), receiver Albert Wilson (2014), linebacker Terrance Smith (2016), as well as receivers Marcus Kemp (2017) and Gehrig Dieter (2017) last year.
Many of these guys have stepped up and made impacts at some point during their time with the Chiefs.
Several other players currently with the Chiefs were signed as undrafted free agents with other teams in their respective years, including linebacker Frank Zombo (Green Bay Packers, 2010), running back Akeem Hunt (New York Giants, 2015), defensive lineman Xavier Williams (Arizona Cardinals, 2015), running back Damien Williams (Miami Dolphins, 2014), safety Robert Golden (Pittsburgh Steelers, 2012), and tight end Tim Wright (Tampa Bay Buccaneers, 2013). 
This year, the Chiefs signed 14 undrafted free agents at the conclusion of the 2018 NFL Draft: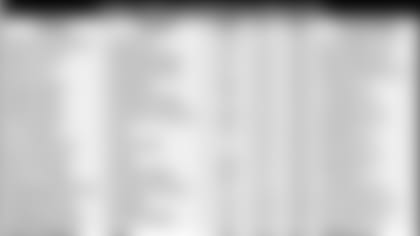 Here's a closer look at each one:
ILB - Raymond Davison – California
Davison (6'1", 230 pounds) played all over the Cal defense during his collegiate career, starting at defensive end before moving to inside linebacker, and then eventually to outside linebacker last year. 
He played in 47 of a possible 49 games in his career, starting 25 of them. He finished his time at Cal with 174 tackles, 10 tackles for loss, 4.5 sacks, two interceptions (one of which was returned for a touchdown), eight pass breakups, two forced fumbles and one fumble recovery.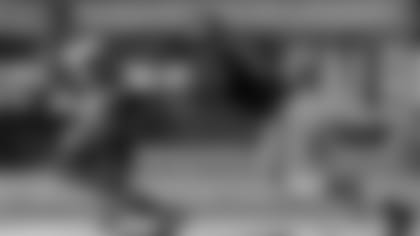 (AP Photo/Marcio Jose Sanchez)
At his Pro Day, Davison's 4.56 40-yard dash time would have been sixth-best among linebackers at the 2018 NFL Scouting Combine, and his 24 bench reps would have been fourth-best.
Davison's coaches spoke highly of his leadership and character. He's a legal studies major who wants to eventually get his law degree.
"I wanted to give myself options," he said back in November, via SFGate.com. "I've always aspired to play in the NFL. I also realize that's not going to be something for me long-term—I think I've set myself up so that I won't be limited."
OT - Ryan Hunter – Bowling Green
Hunter (6'5", 318 pounds) was born in North Bay, Ont. (Canada), but moved to Buffalo, New York, as a teenager in the hopes of increasing the possibility of playing college football. 
Seven years later, Hunter heads to the Chiefs after finishing his four-year career at Bowling Green, where he was a versatile three-year starter—seeing action at both right and left tackle, center, fullback, and left guard. 
For Hunter, who had a few teams vying for his services, the opportunity to join another fellow Canadian offensive lineman on the Chiefs' roster—Laurent Duvernay-Tardif—was too much to pass up.
Hunter said he spoke with the Chiefs' veteran starting right guard the Friday night of the draft. 
"He gave me a call wishing me good luck even if I didn't go to Kansas City," Hunter told CTVNews.com. "But now that we're on the same team, French-Canadians are taking over the state of Missouri. Look out."
NT - Dee Liner – Arkansas State
Liner (6'2", 334 pounds), who was one of the top high school recruits in the country as a five-star prospect coming out of Muscle Shoals High School (AL), spent the first two years of his college career at Alabama—appearing in four games and amassing three tackles. 
Liner then transferred to Arkansas State and had to sit out the 2015 season.
In 2016, Liner played in 13 games for Arkansas State and finished with 34 tackles (8.5 for loss), which were the most on the team among interior defensive linemen.
Liner missed a chunk of the 2017 season because of a groin injury, but he still managed to earn honorable mention All-Sun Belt honors with 24 tackles (6 tackles for loss).
QB - Chase Litton - Marshall
Litton, who played in 34 games in his three-year career at Marshall, completed 60 percent of his passes for 3,115 yards with 25 touchdowns and 14 interceptions last season. 
The Chiefs signed two veteran quarterbacks this offseason in Chad Henne and Matt McGloin, but the team has generally gone to training camp with four quarterbacks. It's worth noting that Litton is represented by the same agency as second-year starter Patrick Mahomes . 
Here's part of NFL.com's evaluation of Litton:
"Litton is an early entrant who has the size and enough arm talent to potentially pique the interest of an NFL team looking to develop a big pocket passer…click here for the full scouting report."
TE - Blake Mack – Arkansas State
Mack (6'2", 235 pounds), who was a named a first-team All-Sun Belt player last year, finished with 48 receptions for 618 yards and seven touchdowns in 2017.
Here's part of NFL.com's evaluation of Mack:
WR - Elijah Marks – Northern Arizona
Marks (5'11", 184 pounds) finished last season with 71 receptions for 1,170 yards with six touchdowns. He had three games with more than 170 yards receiving and had a stretch of five-straight games with a touchdown. He was named a second-team AP All-American and an All-Big Sky first-team player following his 2017 season. 
Marks, who interestingly enough comes from a huge family with five brothers and five sisters, also returned punts last year—averaging 6.2 yards per punt return and 23.3 yards per kick return (with one touchdown).
Here's part of NFL.com's evaluation of Marks:
"Marks has posted quality production and plays with good energy and toughness…click here for the full scouting report."
Moore (6'2", 245 pounds), a former walk-on who played both tight end and fullback during his career, wore the prestigious No. 18 jersey at LSU. 
For an LSU football player, there is no greater prestige than wearing that jersey, per their website.
"The No. 18 jersey is symbolic with being a team leader and a selfless player who best represents what it means to be an LSU Tiger."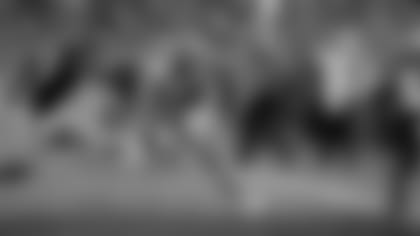 (AP Photo/Gerald Herbert)
Moore played in 38 games over his four-year career at LSU—leading the way for guys like running back Leonard Fournette and Derrius Guice during his time. He moved to tight end as a senior as the LSU offense did away with the fullback position. Moore was awarded a scholarship after his junior season. 
C - Jimmy Murray – Holy Cross
Murray, who checks in at 6-feet-5 and 305 pounds, played all over the offensive line during his time at Holy Cross—starting seven games at right guard as a redshirt freshman in 2014, then moving to center for the next two seasons, where he started 22-straight games. He finally moved to left tackle last season.
In an interview with The Gridiron Crew last April, Murray answered a couple of questions that gives you an idea of what he's about as a player.
Q: When you are studying film, what do you focus on or look for?
Early on in the week, I would look at all of their defensive fronts and go through every possible run play coming from the offensive sets. After that, I'd go through the blitz tape and once both of those were through, I'd watch as many games as I could to see their personnel. I'd be looking for any moves that a given D-Lineman had shown on tape and also look for any tells they showed before a stunt/inside move.
Q: What separates you from the other players at your position?
I'm smart and understand defensive schemes well, which makes it easy to get the offensive line all on the same page and going in the right direction. Additionally, my quickness allows me to make some tougher blocks that not all centers can make.
From the looks of this video, Murray seemed like a man amongst boys at that level.
Niemann (6'2", 235 pounds) appeared in 45 games for the Hawkeyes at outside linebacker during his four-year career—amassing 199 total tackles (16 for loss), four sacks, two interceptions and 11 passes defensed. He posted an impressive 4.60 40-yard dash at Iowa's Pro Day last spring. 
Niemann grew up in a football family. 
His father, Jay, who played linebacker at Iowa State (1979-82), is currently the defensive coordinator and linebackers coach at Rutgers, and his younger brother, Nick, also plays linebacker for the Hawkeyes.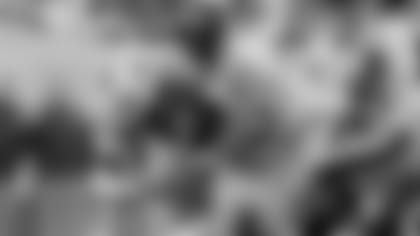 Growing up, the Niemann family had to move around a lot with Jay working at several different schools, which has included stops at Drake (1989-1996), Northern Iowa (1997-2001), Division III Simpson College (2002-07), Hardin-Simmons (2008-10), Northern Illinois (2011-15), and now Rutgers, where he started in 2016.
"I loved it," Ben told landof10.com's Sean Keeler in an article last Fall on his father being a coach. "It's great, just being able to call [Jay] up on the phone. And he understands what I'm going through and … he's coached so many guys in our sport…we moved a lot, and at times that was tough, but every spot, we were able to make great friends, and the transition was pretty smooth, so yeah, I wouldn't change anything.
"I always liked football and I wanted to play and having him as a coach was kind of nice, because you didn't want to let him down. You want to do the best you could and live up to his expectations. He wasn't hard on us, but he kind of internally pushed me a little bit harder."
WR - Byron Pringle – Kansas State
Last year at K-State, Pringle (6'1", 203 pounds) led the nation with an average of 25.2 yards per reception (28 receptions, 705 yards, 6 touchdowns).
Many pundits thought Pringle could be selected late in the 2018 NFL Draft, but upon having his choice on where to begin his professional career after going undrafted, Pringle chose the Chiefs. 
OT - Devondre Seymour – Southern Illinois
Seymour (6'5", 299 pounds) started at right tackle for SIU last season and was "part of an offensive line that ranked among the nation's best at protecting the quarterback," per the school's athletic website.
He's the adopted son of three-time Super Bowl champion Richard Seymour, who adopted Devondre when he was a freshman in high school.  
After first attending Hinds Junior College (MS) and then a brief stop at Georgia, the younger Seymour transferred to SIU to join a former teammate—running back Larry Warner.
"He's got tremendous feet. He uses his length well," SIU offensive line coach Trevor Olson once said, via the Southern.com. "And he's really good at delivering a punch, delivering a blow to that defensive end that's pass-rushing on him. He'll pull his feet in the right way. Just an all-around, solid football player."
CB - Arrion Springs – Oregon
Springs (5'10", 208 pounds), who was considered one of the top available undrafted cornerbacks this year, allowed a completion percentage of just 49 percent when thrown in his direction over the past three years at Oregon.
The numbers don't stop there either.  
"Springs registered double-digit passes defended in each of his three seasons as a starter for the Ducks. He doesn't always play as fast as his timed speed due to messy technique, but he doesn't back down vs. physical receivers and will fit press-man teams."
CB - D'Montre Wade – Murray State
Wade (5'11", 206 pounds) was selected as a Phil Steele First-Team All-American last year at Murray State—finishing with 33 tackles and a conference-best six interceptions. He leaves as the school's all-time leader in pass breakups (35) and passes defensed (45).
Before Murray State, Wade attended Brentwood Academy, where he played with future first-round pick's Derek Barnett (Eagles) and Jalen Ramsey (Jaguars). 
Wade comes from an athletic family. His father, Orlando, played football at Mississippi State, and his aunt, Betty Booker, played basketball at Memphis. 
"Outside cornerback with solid height, weight, speed combination to entice general managers. Wade has the athletic ability to handle bump and run coverage while staying connected to routes…click here for the full scouting report."
RB - Darrel Williams – LSU
Williams (5'11", 224 pounds), who finished last year at LSU with 145 carries for 820 yards (5.7 ypc) and nine touchdowns, was considered one of the top undrafted running backs available after this year's NFL Draft by the legendary scouting man Gil Brandt. 
Going to LSU as a four-star recruit and one of the top running backs in the country, Williams spent most of his time playing behind Leonard Fournette and Derrius Guice in Baton Rouge. 
Williams is described as a "true team player that can do it all from the running back position – talented runner, dominant blocker and exceptional receiver" by the school's website. He was also one of LSU's two recipients of the Charles McClendon Most Valuable Players Award in 2017.
The other player to earn that award for LSU—linebacker Devin White, is Chiefs' running back Charcandrick West's cousin. 
"Physical, well-built running back who opened the eyes of NFL scouts with a strong season as a replacement for, and complimentary piece to Derrius Guice. Williams has NFL size and toughness and his ability to handle short-yardage carries as well as passes out of the backfield do nothing but increase his chances of making a roster."