Tickets for Arrowhead Stadium's first soccer match featuring two international teams since 2009 will go on sale to the general public at 10 a.m. on Thursday, Feb. 12. As part of a long-standing club policy, Jackson County residents will have an opportunity to purchase tickets before the general public with a special presale beginning at 9 a.m. on Tuesday, Feb. 10. As a benefit of year-long membership, Chiefs Season Ticket Members will also have a presale opportunity beginning at noon on Tuesday, Feb. 10.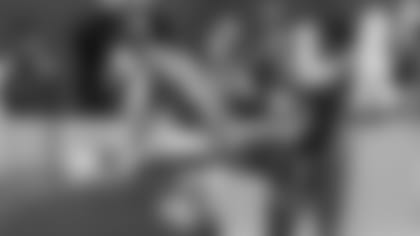 The match, set for 8 p.m. CT on Tuesday, March 31, will see the Mexican National Team face Paraguay as part of Mexico's 13th annual U.S. Tour. One of two games during March's FIFA window, the contest was announced by The Federación Mexicana de Fútbol (FMF) and Soccer United Marketing (SUM) on Thursday, Jan. 22. Mexico will also play Ecuador on Saturday, March 28 at Los Angeles Memorial Coliseum.
This contest marks the first time that Mexico will play in Kansas City. Ranked 20th in the Jan. 8, 2015 FIFA/Coca-Cola World Ranking, Mexico finished the 2014 FIFA World Cup in Brazil with a 2-1-1 record. They played in one of the most exciting matches of the entire tournament, a tightly contested 2-1 defeat vs. the Netherlands in the Round of 16. The team's performance marked the country's best FIFA World Cup final position ranking since 1986. Mexico also earned the gold medal in the 2012 Olympic Games in London and owns nine total CONCACAF Championships and Gold Cup titles.
Miguel Herrera was named interim coach of the team in October 2013. In December 2014, it was announced that Herrera would remain the manager of the Mexican National Team at least through the World Cup. In 20 contests as manager, Herrera has a winning percentage of .600 while Mexico has compiled a 12-4-4 record. As a player for multiple Mexican clubs, Herrera appeared in 380 contests with 21 goals, and he made 14 appearances for the Mexican National Team in 1993-94.
Tickets for the match at Arrowhead Stadium start as low as $34 for Lower Level seats. Limited on-field seating will also be available. Tickets for the game will be available via www.Ticketmaster.com or by calling 1 (800) 745-3000. Group ticket purchases can be made through the Chiefs by calling 888-99-CHIEFS (24433). Luxury suites and other premium seating options are available for this match through the Chiefs by calling 816-920-4839.
General parking for the contest will be $27 if purchased in advance while Gold parking will be $45 if purchased in advance. On the day of the match, only General parking will be available and will be $30, payable in cash only at the gates.
This match marks the first soccer contest at Arrowhead Stadium since the Kansas City Wizards hosted Manchester United in 2010 in front of the largest soccer crowd in Kansas City history (52,424) and is the first competition between two international teams since El Clasico – Club Deportivo Guadalajara S.A. de C.V. (Chivas) vs. Club America in 2009.
Important Information for Media Members
---