Every player should have his own signature celebration dance, or at least a repertoire of moves, to go to when the time comes.
Sometimes, players lean on their teammates for help in finding their signature move, which would be the case for veteran defensive lineman Mike DeVito, who picked up his second sack of the season on Sunday against the Denver Broncos.
His celebration when he brought down quarterback Brock Osweiler midway through the fourth quarter?
"[Justin Houston] gets me each week," DeVito laughingly said in the locker room after the game, "so I tried to do his dance from last year the first sack (Week 2 vs. Denver). It didn't turn out well. So he gave me a simpler one this time.
"I've gotten mixed reviews, so he's working on one for next week."
One of those positive reviews of his celebration came from a teammate who wasn't able to make the trip to Denver due to injury—fellow defensive lineman Allen Bailey, who missed the game with a calf injury suffered earlier in the week.
Offensive lineman Donald Stephenson seemed to love it too.
DeVito had missed the two previous games because of a concussion suffered against the Minnesota Vikings back in Week 6.
He was anxious to get back on the field with his teammates and help a Chiefs defense thoroughly dominate the Broncos on Sunday afternoon.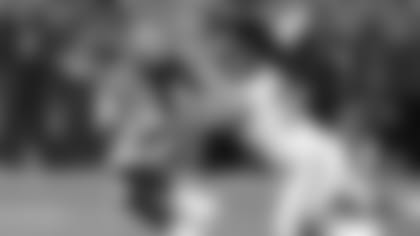 Led by DeVito and company, the first 11 offensive possessions of the game for the Broncos resulted in 5 interceptions and 6 three-and-outs.
"We know what we can do," DeVito said of the defense. "We're confident and this was just a testament to it. The guys are ready to roll and build on this and get ready for next week."
If the defense keeps playing the way it did on Sunday, DeVito should have plenty of more chances to show everyone what Houston will teach him this week.
It'll be worth watching next week in San Diego.