Q: What have OTAs and minicamp been like for you?
PARKER:"OTAs and minicamp have been good to me so far and as a group, I think the secondary, we've come in here and worked hard every day and gave it our all. I think everybody is getting better every day."
Q: What's it like with the personnel changing and do you think you'll be able to compete for a spot?
PARKER:"Oh yeah, I always think I'm going to be able to compete for that spot. But with the present opportunity today, I'm just doing whatever the coaches are asking me to do. Whatever they're asking me to do, I just try to do it to the best of my abilities."
Q: Have you ever gotten this much work before?
PARKER:"I haven't had so much opportunity like this to get with the ones, but a little bit last year. I got a little bit of work with the ones and then with my last game in San Diego I started. I felt like that was a little bit of work too. I'm getting used to it and I'm adjusting really well."
Q: How good was the San Diego game for you?
PARKER:"I think it was a pretty good game for me. I just went out there and played and played my heart out and gave it all I could. I just did the best I could do and just see at the end of the game, I had a good game I think."
Q: What has the transition from safety to cornerback been like for you from college to pro?
PARKER:"The transition was really cool for me because I played a little bit of corner in high school and I got to the league and they switched my position to corner. I've been adjusting really well and doing really well at it. So I think I'm pretty good over there on the outside too."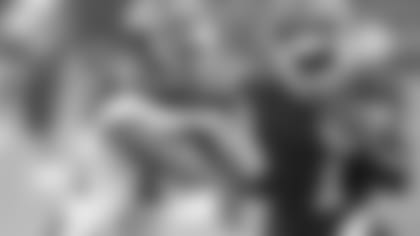 Q: How does it feel to be out there with all of your teammates and not just the rookies?
THOMAS:"I just feel great to be out here. I feel like it's a great group of guys and great coaching. I'm excited just to be here and just execute and get to know this play book."
Q: Are you getting to know a better sense of how the team will use you?
THOMAS: "Yes, a little bit of everywhere and just going out there and having fun."
Q: Did they run you into the ground yesterday?
THOMAS: "Yeah, and me just getting used to this weather and stuff like that. I just have to train with it and get better."
Q: How will you adapt your training to this humidity?
THOMAS: "Just got to keep working hard and keep some fluids in my body."
Q: What kind of coaching did you get while you were gone with Eric Bieniemy?
THOMAS: "Yes, every day just learning, learning from him. He's a great coach and I'm excited."
Q: What kind of stuff did you go over?
THOMAS: "Just looking over what they did in practice and that stuff. I feel like that's about it."
Q: How does your offense at Oregon compare to the Chiefs?
THOMAS: "It's a lot different. I mean it's the same scenario, but it's a lot different. I feel like there's better guys here and better players on offense."
Q: How does Eric Bieniemy differ from your coaches at Oregon?
THOMAS: "I feel like he just makes us be disciplined and being in the right depth in our routes, getting the right foot work on our runs and stuff like that. That's what's going to make us great. Finishing forty yards down the field, finishing twenty yards down the field. You know, just working hard. "
Q:  What's it been like to deal with quarter situation and not participate in OTAs?
THOMAS: "Yeah, it was tough, but I'm excited to be here now and now I just have to come and compete."
Q: How much of it is mental and physical?
THOMAS: "Everything. Just going out there having fun, going out there, training hard, and practicing hard. Like I said, what a great group of guys. It's great to learn from them and be motivated."     
The Kansas Chiefs continue Mini Camp on Tuesday.