There are a handful of players competing at the Senior Bowl this week down in Mobile, Alabama who have ties to the Kansas City area, and one of them is former Missouri receiver J'Mon Moore.
And on Wednesday, Moore, who checked in at an impressive 6-feet-3 and 209 pounds at the weigh-in on Tuesday, made the most of his opportunities.
Making big plays isn't a new thing for Moore, who finished his college career with back-to-back 1,000-yard seasons—snagging 65 receptions for 1,082 yards with 10 touchdowns last year as a senior.
Over his last two seasons, Moore averaged more than 16 yards per reception.
And earlier this week, Moore explained how he's thankful for the opportunity to compete with some of the best players in the country at the Senior Bowl.
"I was actually at our football banquet and (Missouri) Coach [Barry] Odom walked up to me and was like, 'I got some good news for you. You got invited to the Senior Bowl,'" Moore explained of when he got the news. "I'm at the banquet just walking in excited, getting butterflies, I'm just happy knowing what kind of opportunity I have coming to an event like this, so it was a great feeling."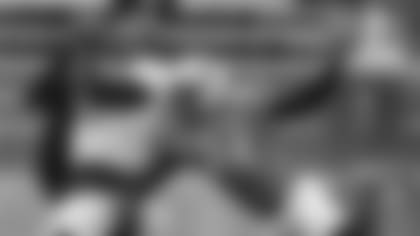 Moore, who was inarguably one of the top playmakers at the receiver position in the Southeastern Conference over the last two years, has had an issue with drops in his career—it's been a thing, but he's ready to show what he can do this week.
"My goal is to be consistent," he explained. "Any questions people have about me, I want them to be answered. I don't want them to have any doubt once I'm done this week. I've got a lot at stake and I definitely want to handle my business out here."
Moore credits the coaching staff at Mizzou for preparing him to be in this position.
"They prepared me as much as they could," he added. "Coach [Andy] Hill—I want to give him credit because he's always staying on me and telling me about the things that I need to work on, and always things that I didn't necessarily want to hear. He didn't give me too much praise because he knew that wasn't going to help me.
"They've prepared me to be on stages like this, and I'm ready to go. I'm not going to take it for granted. I'm going to make the best of my opportunity and compete and put the rest in God's hands."