The Kansas City Chiefs completed a successful business trip on Sunday, defeating the Washington Redskins in their Week 14 matchup, 45-10. The Chiefs tenth win of 2013 was a result of a three-phase, phenomenal effort, spearheaded by the team's head coach, Andy Reid.
REID GETS TO 150: With Sunday's victory, Andy Reid now has 150 wins (140 regular season, 10 postseason). Coach Reid becomes the 21st NFL coach to win 150 games.
CHARLES RECORDS SINGLE-SEASON HIGH RUSHING OUTPUT: RB Jamaal Charles recorded 19 carries for 151 yards (7.9 avg.) with one touchdown, marking a single-game high for the 2013 season. It is his third 100-plus yard rushing game of the season and his 20th-career 100-plus rushing game. His 20 games of 100-or more rushing yards ranks third in franchise history.
Charles now has 1,162 yards on 238 carries (4.9 avg.), marking the ninth-best single-season rushing total in franchise history.
"It was snowing and I couldn't really see where the white line was," Charles said of his TD run. "But, I saw the free safety in the hole, on my first touchdown, and I had to get up in there; I couldn't let anybody stop me and I grinded it in there."
CHIEFS RECORD BOOK - MOST GAMES, 100 OR MORE RUSHING YARDS, CAREER
1. 30 Larry Johnson 2003-09
2. 24 Priest Holmes 2001-07
3.         20         Jamaal Charles             2008-13
4. 14 Christian Okoye 1987-92
5. 13 Abner Haynes 1960-64
CHARLES CATCHES TOUCHDOWN PASS: Charles also added a five-yard touchdown reception from QB Alex Smith, giving him three receiving touchdowns in 2013. Charles now has 13 total touchdowns in 2013. He has 10 receiving touchdowns for his career.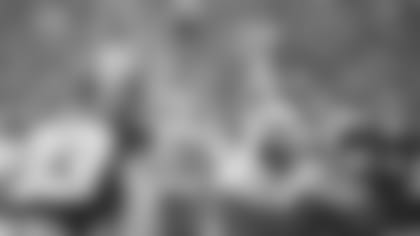 SMITH PASSING: QB Alex Smith completed 14 of 20 passes (70.0%) for 137 yards with two touchdowns and no interceptions, good for a 122.3 passer rating. His 122.3 passer rating is his highest mark of the 2013 season and marks the 15th game in which Smith threw for a 100.0 passer rating or better. In those 15 games, his teams have a 13-2 record. He has started 14 of those contests, with a 13-1 record.
Smith threw two touchdown passes in Sunday's game, marking his eighth multi-touchdown performance of the season. He has 30-career multi-touchdown games, with his teams carrying a 20-10 record in such contests. He has 29 multi-touchdown games as a starter, with a 20-9 record in those games.
JOHNSON PICKS OFF GRIFFIN: LB Derrick Johnson recorded his first interception of the season, picking off a QB Robert Griffin III pass and returned it 40 yards. It marks his 10th-career interception and first since Dec. 24, 2011 against the Oakland Raiders.
HALI GRABS PAIR OF QB TAKEDOWNS: LB Tamba Hali recorded 2.0 sacks (-7.0 yards) of QB Robert Griffin III in the contest. It is Hali's fourth multi-sack game of the season and the 18th multi-sack performance of his career. The Chiefs are 4-0 this year when Hali has 1.5 or more sacks and Kansas City is 13-5 in games when Hali record 1.5 or more QB takedowns.
He now has 11.0 sacks (-78.5 yards) in 2013 to tie for the team lead in total sacks. He now has 73.5-career QB sacks (-473.5 yards) to rank third in franchise history. He passed DE Art Still (73.0 sacks) for third place.
CHIEFS RECORD BOOK - MOST SACKS, CAREER
1. 126.5 Derrick Thomas 1989-99
2. 86.5 Neil Smith 1988-96
3.         73.5      Tamba Hali                   2006-13
4. 73.0 Art Still 1978-87
5. 51.0 Mike Bell 1979-85, '87-91
MCCLUSTER RACKS UP PUNT RETURN YARDS, TOUCHDOWN: WR Dexter McCluster recorded seven punt returns for 177 yards (25.3 avg.) in yesterday's game, setting a new franchise record for most punt return yards in a single game.
He had a 74-yard touchdown return in the contest, marking his second punt return touchdown of 2013, tying a franchise record for most punt return touchdowns in a single season. He becomes the fifth player to record two punt return touchdowns
McCluster has 631 punt return yards for the season, ranking as the second-best single-season total in franchise history.
McCluster now has 53 punt returns for the season, the second-highest single-season total in franchise history.
CHIEFS RECORD BOOK - MOST PUNT RETURN YARDS, GAME
1.         177       Dexter McCluster at Washington           Dec. 8, 2013
2. 141 J.T. Smith vs. Oakland Sept. 23, 1979
3. 130 Tamarick Vanover vs. New Orleans Dec. 21, 1997
4. 128 Dante Hall vs. Arizona Dec. 1, 2002
5. 123 J.T. Smith vs. Baltimore Nov. 2, 1980
Jitter Fields vs. Denver Oct. 18, 1987
CHIEFS RECORD BOOK - PUNT RETURN YARDS, SEASON
1. 640 Tamarick Vanover 1999
2.         631       Dexter McCluster                      2013
3. 612 J.T. Smith 1979
4. 581 J.T. Smith 1980
5. 540 Tamarick Vanover 1995
CHIEFS RECORD BOOK - MOST PUNT RETURNS, SEASON
1. 58 J.T. Smith 1979
2.         53         Dexter McCluster                      2013
3. 51 Tamarick Vanover 1995
Tamarick Vanover 1999
5. 50 J.T. Smith 1981
DEMPS KICKOFF RETURN: S Quintin Demps recorded a 95-yard kickoff return touchdown in Sunday's game, marking his first kickoff return touchdown of the season and the second for his career. His other kickoff return touchdown was a 100-yard effort at Baltimore on Nov. 23, 2008.
Demps' 95-yard kickoff return comes one week after RB Knile Davis recorded a franchise-long 108-yard kickoff return touchdown, marking the first time in Chiefs history that the team has recorded kickoff return touchdowns in back-to-back games.
Quintin described his TD return, after the game.
"I had just got scored on," Demps said. "So, I was like, 'I can redeem myself, right here' and I told myself, 'If I get the ball, I'm going to hit it as hard as I can' and that's what I did; I followed great blocking."
BOWE FIND END ZONE: WR Dwayne Bowe caught four passes for 69 yards (17.3 avg.) with a 21-yard touchdown in the contest. He has five receiving touchdowns in 2013 and now owns 44 career receiving touchdowns.
"It was a simple slant route," Bowe said of his TD. "When we get deep down in the red zone, there's something about me that I have to get in that end zone. Alex threw a great ball; I caught it, made one guy miss and just plowed my way in there."
DAVIS REGISTERS FIRST RUSHING TOUCHDOWNS: Rookie RB Knile Davis recorded his first-career rushing touchdown on a 17-yard scamper in the Week 14 game. He finished the game with 11 carries for 30 yards. His first rushing touchdown comes one week after he recorded his first NFL score – a 108-yard kickoff return for a touchdown.