Playing cornerback in the National Football League can be as demanding mentally as it is physically.
It's a position that exists in the spotlight, both in success and failure, and it requires the shortest of memories in addition to a relentless appetite for competition.  
In other words, it's the ideal job description for new Chiefs' cornerback David Amerson.
The five-year veteran has experienced a little bit of everything while in the league, from his breakout campaign in 2015 to a season cut short by injuries last year.
And now fully healthy, Amerson is eager to show that the player that led the league in defended passes just two years ago still has plenty left in the tank.
"I'm a competitor, man," Amerson explained. "When you're out there on the field, you want to feel like you're the best person out there. You want to be that guy shutting people down and somebody that coaches, fans or whoever can rely on…just being the best. I think that ultimately is what drives me to do what I do."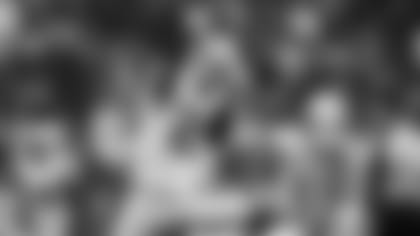 The former second-round pick has certainly shown that ability before, tallying four interceptions and a league-leading 26 passes defensed in 2015 while with the Oakland Raiders. He started 15 games the following season, recording two picks and 16 pass breakups, before injuries limited his chances in 2017.
The Raiders elected to move on from the six-foot-one, 205-pound defensive back following the year, allowing the Chiefs to sign Amerson back on Feb. 16.
He's a player Chiefs' General Manager Brett Veach has had his eye on for some time.
"I think Dave was a tremendous talent coming out (of school) - he was super productive at NC State," said Veach at the NFL Scouting Combine last month. "From a skills standpoint, he's a six-foot corner, he's long, he's athletic, he has really good hips and (can stay) on top of routes. He's been a little inconsistent and has been banged up, but it's one of those things where the Raiders decided to move on and we evaluated his tape and liked his skill set. I think there's still some development and growth that he can reach."
Amerson will have an opportunity to reach that full potential as part of a defensive scheme that emphasizes press man coverage.
"They told me to be prepared to play press 90 percent of the time, and I don't have a problem with that," Amerson explained. "You have to have some dog in you, a short memory and that mindset that no matter what goes on, I'm going to win this battle at the end of the game. I'm going to make plays and not give up…every play is a new play and every down is a new down."
And now in Kansas City, Amerson is ready to get to work.
"When I came for my visit, I (felt) a vibe from the GM (Veach), Coach (Andy) Reid and all the coaches down to the people showing me around the building," Amerson said. "I want to be part of a winning organization - a team that has a chance to compete for a championship - and this just felt right. It's a good place for me to define my career."