The 2011 LSU football team was ridiculously talented.
It finished the season 13-1 with its only loss that year coming to Alabama in the BCS national championship game. It had beaten Alabama in the regular season only weeks before that title game and ultimately finished undefeated in the SEC and won the conference for the first time since 2007.
Some of the names on that team include new Kansas City Chiefs defensive lineman Bennie Logan, who signed with the team on Tuesday, but that team also had guys like Tyrann Mathieu, Eric Reid, Brandon Taylor, Michael Brockers, Kevin Minter, Morris Claiborne, Barkevious Mingo, Lavar Edwards, Odell Beckham, Jarvis Landry, Russell Shephard and Reuben Randle.
Many of those names are probably familiar to all football fans—LSU was absolutely loaded, but the leading rusher of that team should also be familiar to Chiefs fans—Spencer Ware.
(Logan [left] and Ware [right] were together at LSU from 2010-12)
In 2011, Ware led LSU on the ground with 177 carries for 707 yards and eight touchdowns.
Now, flash forward a few years—and as the free agent defensive lineman was deciding on his next destination, which included multiple options, Logan, who spent the first four years of his NFL career with the Philadelphia Eagles after being selected by them in the third round of the 2013 NFL Draft, heard from an old college friend.
"[Ware] called me and just let me know what was going on (with the Chiefs)," Logan explained. "We had a nice little conversation a couple of times and he really made me feel like it was a good place for me, and I felt like it was a good place for me too.
"That's why I made the decision."
In his own way, Ware basically recruited Logan to join the Chiefs.
"Talking with [Ware] and everything, he just told me how this is a family, which is pretty much how it was at LSU," Logan added. "I know the chemistry we had there on the way to the national championship game, and any time you hear anything about how close a team is and family, that's something I really value and something I wanted to be a part of."
Logan grew up in a town of less than 2,000 people in Coushatta, Louisiana, which sits less than two hours from the hometown of another Chiefs running back, . He is one of eight siblings and was raised by his grandmother. Logan's mother passed away when he was in fifth grade.
When it comes to sports, sometimes the "family" cliché is thrown around too much, but in this case, Ware used it to recruit a friend and explain to him how things are with this organization.
It wasn't for a headline or said in front of the cameras.
It was real and it was genuine, and because of their history together, Logan knew he could trust and know it to be true.
It's the same thing safety Eric Berry mentioned a couple of weeks ago as to why he wanted to stay with the Chiefs in signing his multi-year extension—it's a close group of people who take care of one another—a family, and it's something Logan decided he wanted to be a part of.
While he missed him by a year in Philadelphia, Logan said he heard from other guys on the Eagles as to what it was like playing for Reid, whose first year in Kansas City was Logan's rookie year in 2013.
"I heard stories when I first got into the league (with the Eagles), all the defensive lineman and all the players who played under him talked about how good of a guy he was and how they enjoyed their time playing for him," Logan explained. "They work hard and he really takes care of his guys. He is really a players' guy.
"Any time you know you get a coach that works you hard but also understand and cares about you, that's when you give it your all. All around the league, he's got a respect thing."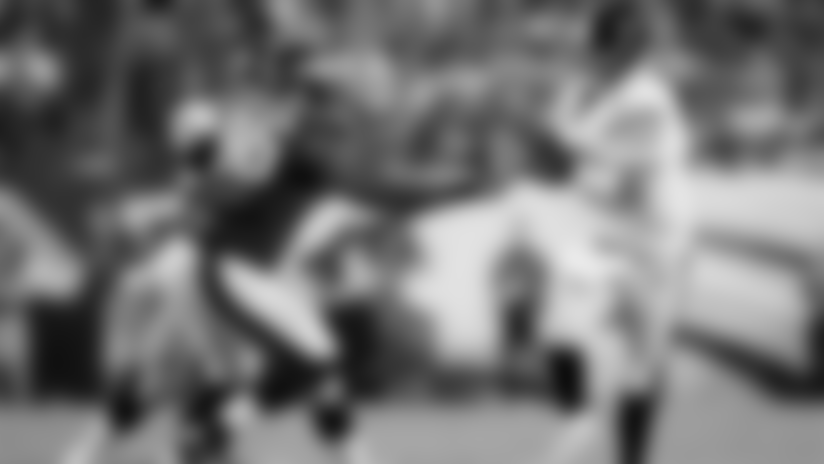 In his four years with the Eagles, the versatile defensive lineman racked up 163 total tackles with 5.5 sacks, and in 2015, Logan ranked as Pro Football Focus' No. 2-graded interior defensive lineman against the run.
"That is my strength – stopping the run and what not, but I feel like I can rush the passer also," Logan explained. "My numbers as far as sack-wise haven't been there, but this past year, I did a good job of getting to the quarterback before I got injured. I made some improvements towards rushing the passer and everything.
"So, I'm just going to continue to improve every year and become a complete player."
Logan is excited about joining a Chiefs defense that has been one of the NFL's elite groups since defensive coordinator Bob Sutton and company arrived with Reid in 2013, allowing an average of just 18.5 points per game, which ranks only behind the Seattle Seahawks (16.5 ppg) during that time.
"They've got a playmaker at every position," Logan explained of the Chiefs defense. "I'm going to try to come in and not let my guard down and not let myself down. They've got some end guys that can rush, they've got some interior guys that can rush, they've got a heck of a linebackers group and their secondary is making their name and has already made themselves known as one of the top secondarys in the league.
"I'm trying to come in and not be the weak link on the defense. I just need to work hard and help those guys continue to keep doing the things they've been doing the past few years."