It may not be the flashiest job on the field, but it helps set the tone on each and every play.
Such is the life of a run-stuffing nose tackle, a position that doesn't garner much in the way of box score statistics but is tasked with preventing the opposition from developing a rhythm on offense.
It's a role that Kansas City Chiefs' defensive tackle Xavier Williams embraces.
"It's kind of a well-known fact that if somebody runs on you, they're beating you down mentally and physically and it makes for a long game. It establishes an attitude for the offense that they can do whatever they want to you," Williams said. "You don't want them feeling like that."
That mentality is something that's defined Williams' career, as he solidified himself as one of the better defensive tackles against the run in all of football while playing for the Arizona Cardinals over the past three seasons.
"It was kind of drilled into me, especially while I was in Arizona," Williams explained. "We were always a top run defense and my main mentor there, [Cardinals nose tackle] Corey Peters, always talked about it. He would say, 'We're nose guards. No matter what, if they run the ball, it's going to reflect badly on us.' You just keep that in your mind and that's how you keep your job."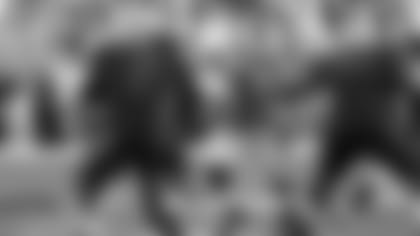 Williams took that sentiment to heart while in Arizona, coincidently catching the eye of his childhood team in the process. The Kansas City native hit free agency this offseason and took advantage of an opportunity to come back home.
"All my friends and family are around here, so it's just nice seeing them a lot more. I get to see my cousins every day," Williams said. "Everywhere I turn, l see somebody from high school or elementary school or somebody in my family. It's everywhere I go."
That includes some new faces as well in the form of Williams' teammates along the Chiefs' defensive line.
"I like them. It's a young group, we're all around the same age, and I think a lot of guys are hungry," Williams said. "Not a lot of them have made their name in the league yet and they have something to prove. They want people to take notice, and I like that."
Indeed, six of the Chiefs' nine defensive tackles currently listed on the roster are under 27 years of age.
And though just 26, Williams provides a veteran presence to a largely youthful group.
"He's just a smart player. You can tell he's a veteran guy that knows a lot about the game," said fellow defensive tackle Chris Jones. "He works hard and he just fits in well, especially with our defensive line and the schemes that we run."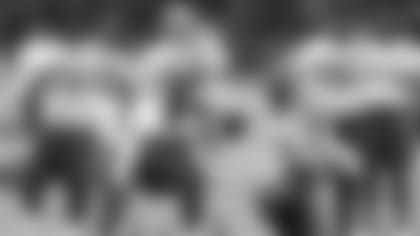 It's a group that Williams is glad to be a part of as Organized Team Activities (OTAs) roll along and the season inches closer by the day.
"With a team like this – a team this young – the energy is just different," Williams said of his new team. "It's hard to describe, it's just a little different.  It seems like everybody is just a little more juiced up."
The Chiefs will be counting on that juice soon enough.