If General Manager Brett Veach has made one thing clear since taking over the Kansas City Chiefs last July, it's that when he likes a player, he'll do whatever he can to get them in the red and gold.
That was certainly the case with linebacker Anthony Hitchens, who signed with Kansas City on Wednesday after nearly joining the Chiefs in a trade last offseason.
It didn't work out the first time around, but following a career-season for the fourth-year linebacker, Hitchens has found a home in Kansas City after all.
"It means a lot (to be here)," Hitchens said. "They wanted me then and they still wanted me a whole year later. They were telling my agent that they weren't backing down…they wanted me here and that I represent everything that they want here. It made the decision a lot easier."
Hitchens tallied 304 tackles (193 solo) over his four seasons with the Dallas Cowboys, establishing himself as one of the more versatile linebackers in all of football. He played as a SAM (strong), WILL (weak) and MIKE (middle) linebacker in the Cowboys' 4-3 scheme – something few players are capable of doing.
"I don't want to be labeled as a middle linebacker or weak side or strong side or just a rusher or whatever you want to call it," Hitchens explained. "I want to be a versatile linebacker that can do it all, and I think that's what brought me here."
And it goes beyond versatility – he's been effective, too
Hitchens was one of just three qualifying inside linebackers to not miss a single tackle last season, as noted by Pro Football Focus. He was PFF's top-rated run-stopping linebacker available on the open market and didn't allow a single touchdown in 37 targeted passes while in coverage.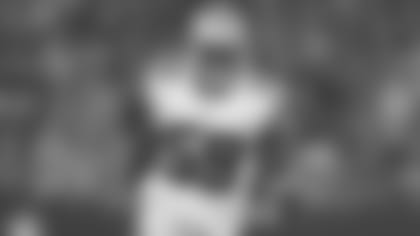 The 25-year-old can play, providing a tone on defense that the Chiefs coveted.
"When we look at the defense and we are trying to get different pieces here in place – I don't think you get better until you develop and get a mindset of how you are going to play," Veach said. "You have to get corners and you have to get pass rushers, we are aware of all that, but it starts with a mindset."
A mindset that Hitchens lives and breathes.
"When you turn on the tape and watch Anthony Hitchens play, he plays with that toughness and that mindset," Veach said. "When you take the field, that opposing offense knows they are going to be in for a dog fight for four quarters. That is one of the things that we talked about as a staff. Yeah, we can get good players, but we have to develop that mindset. This is what this guy brings."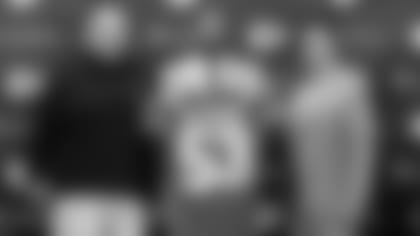 It's something that Hitchens has possessed dating back to his days at the University of Iowa, where he led the Big Ten in tackles as a junior.
"It's just the way I play – with an attitude," Hitchens said. "It's just like a switch I have while I'm on the field or at practice. It's something I was blessed with and I don't carry it off the field at all, but I'm just blessed with that ability."
And after nearly joining the Chiefs a year ago, Hitchens is ready to bring that ability to Kansas City.  
"We have people that are willing to hit - and I like to hit. We have a lot of speed and some big guys up front to cover me up, and those are the only things you can ask for as a linebacker," Hitchens said. "I'm just excited to get this thing going."