After being released by the Atlanta Falcons last week, the newest Kansas City Chiefs offensive lineman—Mike Person—didn't have to wait long to get his next opportunity.
Person, who originally entered the NFL as a seventh-round pick of the San Francisco 49ers back in 2011, has spent the past five seasons with five different NFL teams. He spent the past two years with the Falcons—starting 14 games at center for them last season.
"Big, good-looking guy – I'm going off what (general manager) [John] Dorsey presented to me – tough kid," Chiefs head coach Andy Reid said of Person, who is listed as a guard, on Wednesday. "He's got good feet, good athlete. He's not the heaviest guy. He probably could use some of mine right there, but he's a good athlete."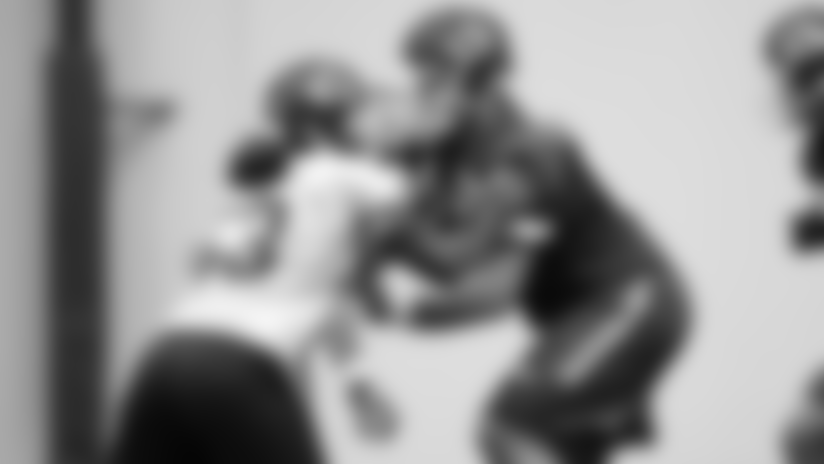 The addition makes sense, as the Chiefs are dealing with an injury to starting left guard Parker Ehinger, who left the Colts game with a knee injury.
Ehinger was replaced by Zach Fulton, who had also served as a backup to center Mitch Morse. The addition of Person gives the Chiefs another experienced player along the interior of the offensive line.
The Chiefs weren't the first team to call Person as he waited with his wife back at their current home base of Atlanta, Georgia, for the right opportunity upon being released by the Falcons.
"Got the call, packed my bags and hit the road," Person said of when the Chiefs reached out to him this week.
While the Chiefs weren't the first call, Person said it was the kind of opportunity he was waiting for.
"I wasn't in a rush," Person explained. "I wanted to come to a really good team. I've been getting calls since I got released last week about maybe, possibility (of joining a team), but I jumped at the opportunity to come here (to Kansas City). It's a really good team and I wanted to be a part of something special.
"Looking from the outside in, I think there really is a good chance of that being the case here."
Person spent time his rookie year with quarterback Alex Smith in San Francisco, and then with defensive lineman Jaye Howard with the Seattle Seahawks in 2012.
Overall, Person has been with the 49ers (2011), Indianapolis Colts (2012), Seahawks (2012-13), St. Louis Rams (2013-14) and Atlanta Falcons (2015-16).
All that experience and Person said it's going to be a challenge digesting a verbose playbook under Reid.
"It's a lot of new terminology," Person explained. "But I'll dig into that as deep as I can. Mitch (Schwartz) has been helping me out quite a bit."