It wasn't but five minutes after he got the phone call from the Kansas City Chiefs that former Cincinnati Bearcat offensive lineman Parker Ehinger got a message from an old college teammate. Ehinger had just been selected by Kansas City in the fourth round (No. 105 overall) of the 2016 NFL Draft.
"I'm excited to be a Chief and to be able to team up with Travis Kelce again," Ehinger, who spent two years with Kelce back at Cincinnati (2011-12), said. "It's going to be awesome. [Kelce] actually just texted me about five minutes ago. He said he can't wait to see me and told me to hit him up right when I get in town."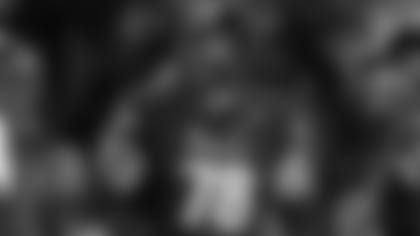 Ehinger said he isn't surprised at the success Kelce has had thus far in his career, earning a Pro Bowl nod and a multi-year contract extension this past offseason.
"Seeing the type of athlete [Kelce] was and being in college with him a couple years and seeing him grow as a player, as a leader and everything, I wasn't surprised that he was able to take his talents and thrive in the NFL," he explained. "I just knew it was a matter of time before he got his time and he took full advantage of it.
"It's an honor to see something these guys from my school go out and do big things like that."
Ehinger, who stands at 6 feet 6 and 310 pounds, showed a lot of versatility throughout his four-year college career.
He started 23 games at right tackle during his freshman and sophomore seasons, moving to right guard his junior year, when he started 13 games. Ehinger then moved over to left tackle as a senior, starting all 13 games at that position.
Pat Sperduto, the area scout for the Chiefs in charge of evaluating Ehinger, praised his consistency and technique, adding that the multiple positions he played throughout his career made the evaluation a bit easier.
"Wherever they need me, I'm happy to play anywhere," Ehinger said of where he's going to fit best with the Chiefs. "If they need me to take center snaps, I'll take center snaps because I'd love to compete for a starting position at some point."
After watching a little bit of the draft on Friday night, Ehinger said he turned it off and spent Saturday just hanging out with friends watching other stuff before he ultimately got the phone call from the Chiefs.
"It was just too stressful," he said. "A lot of friends I talked to said, 'Don't even watch the draft. It's too stressful.'
"I found that out pretty quickly. I've just been hanging out in my basement watching TV."
When asked his greatest attribute as a player, Ehinger didn't hesitate.
"It's my football IQ," he said. "I can pick up in any system, pick up very quickly. I ran a couple different offenses throughout my college career, and then played in the East-West Shrine Game and played in a pro-style offense.
"Anything they can throw at me, I'll be able to pick it up very quickly."
A Look at the 2016 Chiefs Draft Picks.