It was only two years ago that the Kansas City Chiefs made quarterback Patrick Mahomes the 10th overall selection in the 2017 NFL Draft, and what a decision it was.
Mahomes took the world by storm during his first season as a starter in 2018, earning NFL MVP honors after becoming just the second player in league history to throw for 5,000+ yards and 50+ touchdowns during a single campaign. He racked up 300 or more yards in eight-straight games – tying an NFL single-season record – and shattered a slew of franchise marks that had stood for decades.
It was simply one of the top performances in the 100-year history of the league, and according to NFL.com analyst Adam Schein, it makes the 23-year-old signal caller the best pick in the 2017 Draft.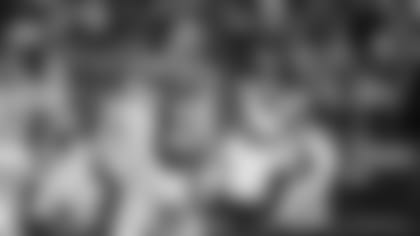 Schein ranked the top pick in each of the last nine drafts this week, sorting through dozens of All-Pros to identify a single player from each class that stands out amongst the rest. Schein mentioned Saints' tailback Alvin Kamara, Browns' defensive end Myles Garrett and Jets' safety Jamal Adams as candidates for the best pick in 2017, but Mahomes' stellar season pushed him ahead of the pack.
Here's a portion of what Schein had to say about the Chiefs' quarterback:
"Mahomes, meanwhile, sat on the bench behind Alex Smith for most of his rookie season -- and yet, he's the top player of this class, and it's not even close. Mahomes' MVP campaign of 2018 was an all-timer. He threw for 50 touchdown passes against just 12 picks and over 5,000 yards while leading the Chiefs to the AFC West title…"
"Mahomes is amazing, and he hasn't even gotten started. His talent and smarts are off the charts. And with his flair and improvisational skills (no-look passes, anyone?), Mahomes has become the greatest show in all of sports."
The 2019 season can't get here soon enough. Check out Schein's article by clicking here.