It was nearly two years ago that Kansas City Chiefs' defensive tackle Chris Jones met with reporters following practice at training camp. Jones had tallied 6.5 sacks the year prior and appeared poised to take another step in his third year as a professional, but when asked for his goals heading into the 2018 campaign, his response – while simple enough - was loftier than most probably expected.
"I want to lead the NFL in sacks," he said. "I've been talking about it all summer and voicing it to my teammates. I believe that wholeheartedly, and you have to speak it to believe it."
Many dismissed that proclamation at the time, but in the two years since, it's clear that Jones meant what he said. The 26-year-old Jones - who signed a contract extension with the Chiefs on Wednesday – hasn't just established himself as an elite defensive tackle over the past two seasons, but also as one of the best defensive players regardless of position in the NFL.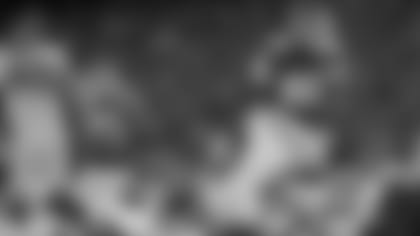 Since the beginning of the 2018 season, Jones ranks fifth in the NFL in quarterback hits (49), sixth in sacks (24.5) and seventh in tackles-for-loss (27). His nine batted passes in the regular season rank fourth among all defensive linemen in that time, and that doesn't include his three swats in Super Bowl LIV. Jones set an NFL record in 2018 with a sack in 11 consecutive games and, according to Pro Football Focus, he's the No. 16 overall player in the league entering the 2020 season.
And, despite the impressive raw numbers, what makes Jones' production all the more special is where he lines up on the field. The former second-round pick has compiled numbers from an interior position along the defensive line that rival some of the top edge rushers in the NFL, thrusting Jones into a category few interior defensive linemen ever reach as an elite pass-rusher.
In fact, only the Los Angeles Rams' Aaron Donald and the Philadelphia Eagles' Fletcher Cox tallied more pressures (132) among interior defensive linemen over the last two seasons. Additionally - again according to PFF - Jones' pass-rushing grade in that span ranks second in the NFL regardless of position, trailing only Donald.
It's important to note as well that Jones doesn't just play inside. At six-foot-six and 310 pounds, Jones possesses the dynamic athleticism to rush the passer as a defensive end, too, and is used in a variety of ways on defense.
His tendency to set big goals didn't stop with his personal performance, either. In the days following Kansas City's loss in the 2018 AFC Championship Game, Jones posted on Twitter that the Chiefs would earn a trip to the Super Bowl in 2019. Again, many dismissed his comments, but a year later, Jones was playing a critical role in Kansas City's first championship in a half-century with the three aforementioned batted passes in addition to a key pressure that forced an interception early in the game.
Jones is simply one of the best young players in the NFL, and as his comments two years ago indicate, it's by no accident. Now, with an extension in the books and his future secured in Kansas City for years to come, he's setting a few more goals.
"I love you Chiefs!!!," Jones posted on his Twitter shortly after the news broke. "I promise to bring you more championship rings and a [Defensive Player of the Year Award]."
Based on Jones' track record of turning predictions into reality, there's a good chance some big things are in store for Chiefs Kingdom.