The smiles were everywhere. It was the perfect scene.
A group of players, coaches and staff members that at one point, only had each other who believed in their ability to get to the point they found themselves in on Sunday afternoon.
They were once 1-5, now they are playoff-bound.
That's what the Kansas City Chiefs accomplished with their 17-13 win over the Cleveland Browns on Sunday, tying a franchise record with their ninth-consecutive victory.
"There's a very small margin between winning and losing in this league," Chiefs coach Andy Reid explained after the game, "and to maintain the focus you need to win back to back like this—that's probably the thing I'm most proud of for this group, is doing that."
Every win has been a little bit different, requiring different things of different people.
They've had injuries from players who haven't been able to return, and they've had players miss games and come back—all along the way asking the next man to step up and find a way to contribute to a victory, which they have.
"It means the world to do it with these guys," running back Charcandrick West, who has stepped in for an injured Jamaal Charles to lead the team out of the backfield, said after the game. "We persevered and we stayed together.
"We're making history and we're going to continue to make history."
West carried the ball 14 times for 62 yards against the Browns on Sunday, and has amassed almost 500 yards rushing and 4 touchdowns in the nine games since Charles was lost for the season with a knee injury back in Week 5.
But Sunday's win had a lot to do with the resolve of the Chiefs defense, which had to stop Johnny Manziel and the Browns offense on three separate fourth-quarter drives, all while holding on to just a one-possession lead.
The Chiefs defended 29 plays in the fourth quarter alone, and were on the field for more than 11 of the final 15 minutes of the game. The group's effort is a microcosm of the season—they were pushed to the edge but didn't give in when they were at their breaking point.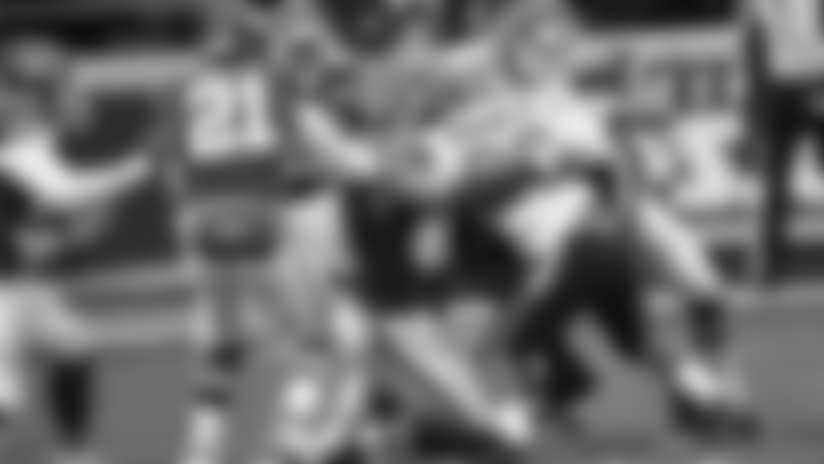 "We don't quit," veteran defensive lineman Mike DeVito said. "I've never been around guys like this before. There was no doubt that we could dig ourselves out of that hole, and we did it. A lot of other teams, they lose that many guys and sit with a 1-5 record, it's over.
"That wasn't the case here because of the work ethic and the way everyone, from the starters to the young guys, prepared themselves."
One of the young guys who has found himself as a starter since day one is rookie first-round pick Marcus Peters, who tied a couple of franchise records with his performance on Sunday afternoon, just a few days after being named a Pro Bowler in his first NFL season.
Peters' two passes defensed give him 25 for the season, which now has him tied for the most in a single-season in franchise history (Brandon Carr, 2010). And his second-quarter interception of Manziel gave him his 8th of the season, which now has him tied with Bobby Hunt (1962) for most by a rookie in franchise history.
After the game in the locker room, Peters was reflective on what the last nine months has been like for him with this organization.
"They take a risk on somebody that was supposedly a bad guy or going to be a cancer to the team," he said. "That's what was said about me, but from day one, I just felt the love here.
"As a team, we just kept fighting through adversity earlier in the season. Now, it just shows how tough we are, and how tough we are to beat when we all trust in each other.
"It's going to be hard to break our bond."
One veteran who knows something about that bond is fourth-year player Jeff Allen, who not only had to overcome a season-ending injury from a year ago, but has had to deal with his own nagging injuries this season.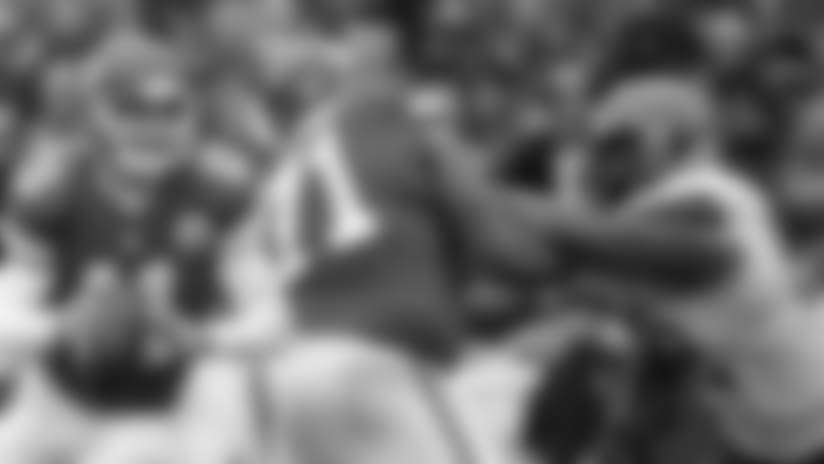 It's been Allen's presence, along with third-year left tackle Eric Fisher, who have been leaned upon to be the rocks of a young offensive line to help protect Alex Smith, and also be the engine that drives this Chiefs' offense.
"It's special," Allen said of making the playoffs after a 1-5 start. "The only people that believed in us are in this locker room.
"That's what kept us going, that trust in one another and that belief that we'd be here today.
But just as Reid stated after he left a jubilant locker room to speak with the media after the game, the fun is just getting started for this team.
"It's not over. It's just begun—you've got to keep that in mind, but you cherish these things, every one of them."
After what this team has been through this season, there's no doubt they understand that something special is going on.
Photos from Chiefs Week 16 matchup against the Browns