The Kansas City Chiefs are one of two remaining unbeaten teams in the NFL, and a lot of that has to do with the performances of a couple of players featured in USA Today's latest "NFL MVP Tracker."
The players are quarterback Alex Smith and rookie running back Kareem Hunt.
It's true that it's too early for this kind of thing, but it does put in perspective the level at which these guys are playing in comparison to other guys around the league.
In order to determine the top four candidates on this list, the USA Today Sports' NFL staff each gave out points for first-place votes (5), second place (3) and third place (1), and through three weeks, Smith and Hunt come in at No. 1 and No. 2.
1. QB Alex Smith, Kansas City Chiefs (19 points): He maintains his season-long lead by the slimmest of margins after throwing for (just) 155 yards and two TDs in Sunday's win over the Los Angeles Chargers, a victory that left the Chiefs and Atlanta Falcons as the NFL's only undefeated teams. Smith has thrown seven TD passes, second in the league, and has yet to throw a pick. Factor in his chart-topping 77.4% completion rate and 132.7 passer rating — both on early pace to break league records — and Smith is off to the best start of his career... Last week: 1
2. RB Kareem Hunt, Chiefs (18 points): His 172-yard rushing outburst in Sunday's win nearly propelled him past Smith. But Hunt's production continues to shape what could be a rookie season for the ages. His league-leading 538 yards from scrimmage are 24 shy of Billy Sims' record after a player's first three career games. However, Hunt did carve a place in history with his 69-yard TD run against the Chargers, making him the first player ever to reach the end zone from beyond 50 yards in his first three games… Last week: 3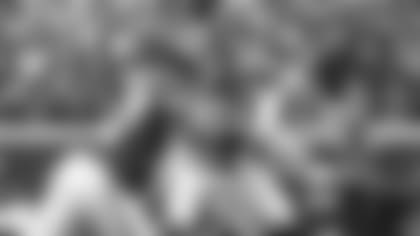 The New England Patriots' Tom Brady and Green Bay Packers' Aaron Rodgers are the other two players on the list.
In their history, the Chiefs have never had a player win the NFL's MVP, and there has only been one rookie in NFL history who has won the award, and it was a running back—Jim Brown in 1957 for the Cleveland Browns.