The No. 2-seeded New England Patriots (12-4) will host the No. 5-seeded Kansas City Chiefs (12-5) this Saturday at 3:35 p.m. CT from Gillette Stadium in Foxboro, Massachusetts. The Patriots are coming off of a first-round bye.
Bill Belichick has coached the Patriots since 2000 and is 22-9 during the playoffs in his head-coaching career. He has won 4 Super Bowls (XXXVI, XXXVIII, XXXIX and XLIX) in New England.
Belichick complimented the Chiefs during his conference call with the local Kansas City media this week.
"I don't think there's a hotter team in the league right now," Belichick said. "Obviously Coach [Andy] Reid and his staff have done a great job, playing really well in all three phases of the game, so a lot of great team efforts here over the last three months, and they just do a lot of things well.
"They do a great job with ball security, turnovers, taking advantage of opportunities, creating opportunities. They have big-play players, a lot of guys in different roles that have been stepping up for them. It's a really good football team and they're playing well."
Here's a look at the Patriots coaching staff:
Special Teams Coordinator
The Patriots offense begins with quarterback Tom Brady, a future first-ballot Hall of Famer and a three-time Super Bowl MVP.
Brady has played in 29 career playoff games, compiling 7,345 yards passing, 53 touchdowns and 26 interceptions. His completion percentage in last year's playoffs, 68.9 percent, was the best of his career.
"Playing against [the Chiefs] this week, I'm going to have to watch a lot of film," Brady said. "There is a lot to cover. There is a lot they do schematically, and then for us, it's just how we're going to be able to execute at a higher level than we've executed the last couple months. That's all we've been talking about is figuring out ways to get solid execution. And there is no magic ingredient. You've just got to go do it. Everyone has to do their job at a high level, awareness has to be high, and we've got to figure out how to score some points."
During last six games of the season, the Patriots compiled a 2-4 record, with losses to the Denver Broncos, Philadelphia Eagles, New York Jets and Miami Dolphins. But that stretch was without wide receiver Julian Edelman, who is expect to return Saturday after missing the last seven games.
Edelman was the recipient of a combined 88 targets (9.8 per game) in the 9 games he played in 2015 before breaking his foot against the New York Giants in Week 10.
"When we practice today, we'll put out the status of the players based on what they're doing in practice and we'll see how that goes," said Belichick on Tuesday when asked for an update.
In Edelman's absence, tight end Rob Gronkowski became all the more important. He led the Patriots with 72 receptions for 1,176 yards receiving and 11 touchdowns.
There have been a number of key injuries for the Patriots offense in 2015, and that could affect their success in the playoffs. The three key losses were to running backs Dion Lewis and LeGarrette Blount and left tackle Nate Solder. Lewis tore his ACL in Week 9, Blount injured his hip in Week 14 and Solder tore his bicep during Week 5.
"It's hard to predict going into the year," Brady added. "You have depth at certain positions, like at the tackle spots for us, and then that goes away real quickly once you have major injuries like we had. It's been obviously a challenge week to week trying to figure out how we're going to move the ball down the field and score points, especially when you play good defenses, it's very challenging."
RBs Brandon Bolden and Steven Jackson have combined to fill in for Lewis and Blount. Bolden averaged 3.3 yards per attempt in 2015.
Here's a look at the unofficial offensive depth chart for the Patriots:
New England Patriots Offensive Depth Chart (Unofficial)
Here's a look at the Patriots numbers and ranks so far this season on offense:
| | | |
| --- | --- | --- |
| | | |
| | | |
| | | |
| | | |
| | | |
| Net Rushing Yards Per Game | | |
| Net Passing Yards Per Game | | |
| | | |
| | | |
| | | |
| | | |
| | | |
| | | |
The Patriots rank as the No. 9 defense in the league, allowing 339.4 yards per game. The Patriots have taken the ball away from opposing teams 21 times during the course of the 2015 regular season.
Third-year cornerback Logan Ryan had a breakout season for the Patriots, leading the team in tackles (58) and interceptions (4).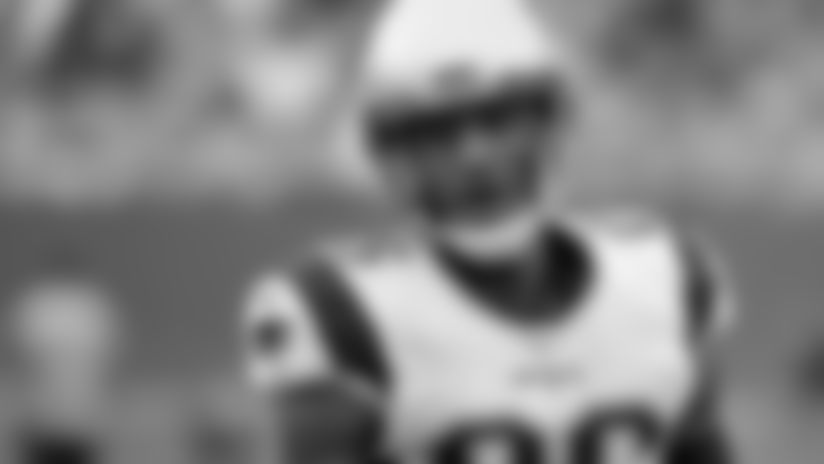 Defensive end Chandler Jones led the Patriots front seven with 12.5 sacks, but pressure comes from all angles in coordinator Matt Patricia's defense, as 13 players have recorded at least 1 sack for their unit this season.
The Patriots have sacked opposing quarterbacks 49 times for a total of 358 yards.
CB Malcolm Butler, the hero of last year's Super Bowl, will be another Patriots defender to watch against the Chiefs offense. Butler finished just behind Ryan in tackles with 56.
Similar to the return of WR Julian Edelman on offense, the return of LB Dont'a Hightower will be critical for the Patriots on defense. Hightower missed Weeks 16 and 17 due to a knee injury. Safety Devin McCourty, another key player for the Patriots, returned in Week 17 after dealing with a high-ankle sprain, but the week of rest during the first-round bye should help him against the Chiefs.
Here's a look at the unofficial defensive depth chart for the Patriots:
New England Patriots Defensive Depth Chart (Unofficial)
Here's a look at the Patriots numbers and ranks so far this season on defense:
| | | |
| --- | --- | --- |
| | | |
| | | |
| | | |
| | | |
| | | |
| Net Passing Yards Per Game | | |
| | | |
| | | |
| | | |
| | | |
| | | |
| | | |
Finally, here's a side-by-side comparison of the individual statistical leaders for both teams: