Once again, the Chiefs are rewarding fans for renewing their Season Ticket Memberships through the Chiefs Signing Bonus. The organization wants to recognize the dedication, loyalty and support of Season Ticket Members (STMs) and offer a reward for members renewing their tickets.
Those who renew their tickets from January 19th through February 17th will be entered into a drawing to receive prizes, including tickets to the Super Bowl, a chance to watch a Chiefs game from a suite, or lunch with team president Mark Donovan. Plus there's even a chance to win a trip to the 2016 Pro Bowl or catch the Chiefs take on the Lions in London. 30 drawings will be conducted, one for each day of the program.
"The Signing Bonus program allows us to show appreciation to our Season Ticket Members by rewarding them with opportunities to win unique prizes and experiences simply for renewing," Jayne Martin, Director of Fan Experience, explained. "We received a lot of great feedback from those who have won over the past two years of the program and enjoy giving back to our loyal fans."
Last year through the Signing Bonus, Chuck Zeikle, a STM since 1990, won the opportunity to throw the first pass to Bill Maas before a Chiefs game.
"It was great; being on the field is unbelievable and the atmosphere is amazing," Ziekle said. "I was floored that I had won and thought it was fantastic. The Chiefs are very fan oriented and when I hear 'Chiefs Kingdom,' I think of a family. They treat their STMs like their part of the family. I think it's fantastic that they offer this opportunity."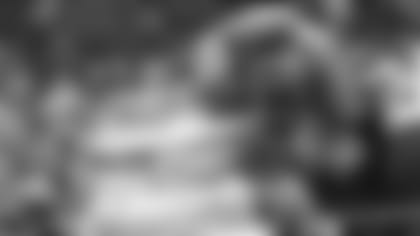 Brian Hewitt, STM since 2009, will be traveling to the Super Bowl next month as his prize for renewing his membership.
"At first I thought it was a prank, I didn't believe I had actually won this once in a lifetime trip," Hewitt commented. "I've loved being a STM; this signing bonus program is unbelievable. It's a unique way to reward your customers."
Hewitt will be attending the game with his 13 year old son, Brady, who is ecstatic to attend.
"My wife and son will be traveling with me, but my son and I are going to the game," Hewitt said. "My son is very excited about it and has been telling his friends and talking about ever since we won last year. Obviously, we wanted the Chiefs to be there but he's still really excited."
Another winner last year was John Rolls, a STM since 2007, who had the opportunity to be the coin toss captain at a Chiefs game.
"I thought the signing bonus was a great reward," Rolls said. "You're going to renew anyways, so why not do it during the signing bonus and try to win a prize."
Through the Signing Bonus program, Chiefs STMs will be entered in the drawing to win these prizes and experiences. This program is a way for the Chiefs to say thank you to the fans for their continued support. To learn more, visit ChiefsKingdomPass.com.
Hear from some other STMs that have enjoyed prizes for renewing their tickets for the 2014 season.